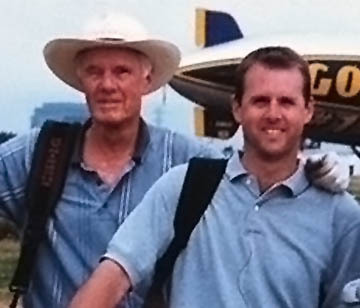 Cable TV Pioneers is a group that recognizes individuals who have in some way contributed to the industry. This year they nominated the 52nd class, one of the largest. I have been fortunate in my career to know many of these pioneers. Of course, when I was young they were just my dad's co-workers or customers.
Living in Redondo Beach CA, our backyard and garage was the West Coast warehouse for Vikoa. We frequently had folks picking up cable and connectors and loading their trucks in the back. Many of our family vacations involved driving up and down the West Coast where I occasionally joined my dad as he stopped along the way to visit a customer. At the time, I didn't realize what these folks would ultimately mean to the growth of our industry.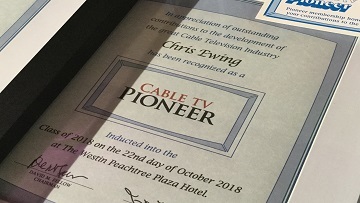 Some of them would become presidents of major multi-service organizations, lead engineering breakthroughs, build thousands of miles of plant, or like me, work for companies that supplied the material to make it happen. I had the pleasure and good fortune to work for others. When you look at managers or mentors, you can do no better than the ones I've had. My current boss, Jim Hughes (who this year was named to the SCTE Hall of Fame) and before him Mark Manning, Tony Finger and Neil Phillips, all pioneers. It says a lot.
But my first boss -- the one that gave me the foundation for my entire career -- was my dad. Although never formally recognized, Bill Ewing was a true pioneer in every sense of the word. He worked in the cable industry from 1962 until his retirement in 2000. He was highly regarded for his integrity and commitment to his customers. He was a great mentor and role model. To this day, as I interact with peers and customers, I lean on those lessons learned and go about my job as he taught me.
CLICK TO TWEET: CommScope's Chris Ewing dedicates his Cable TV Pioneers honor to his dad. We're not crying, YOU'RE crying!
To my surprise, this year I was accepted to join the ranks of the Pioneers. It is a very humbling experience to be among the heavyweights of this year's and past inductee classes. I was nominated by Neil Phillips (founder of Signal Vision), Joe Van Loan (formally with CVI and Mediacom), with additional support from Jim Hughes. It means a lot to me that they would consider me for the Pioneers group and something I will never forget. My dad would be proud.