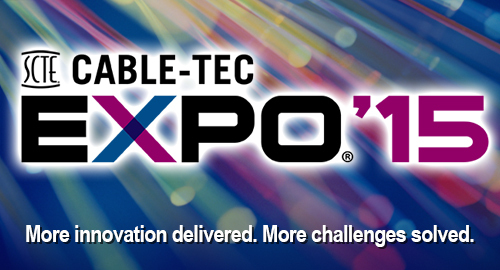 The network infrastructure that powers broadband providers and multi-system operators (MSO) is evolving rapidly. That is why the SCTE Cable-Tec Expo in New Orleans (Oct. 13-16, 2015) is so important for operators and for CommScope. With our acquisition of TE Connectivity's Broadband Network Solutions (BNS) business, CommScope is adding more innovation, global solutions and scale to help operators solve more network challenges.
With the combination of CommScope and the BNS business, we look to accelerate industry innovation, solve more wired and wireless network challenges and better serve customers in more markets around the world. Broadband and MSOs and are facing four major challenges:
Increasing bandwidth requirements

Network quality issues

Rapid deployment that is scalable

Optimized infrastructure that can support every application
And CommScope now has even more solutions:
We are better positioned to support the steadily growing demand for broadband services in developed and emerging markets with an expanded fiber offering, enabling faster bandwidth and lower latency
We have a strong track record of operational excellence through optimizing our manufacturing processes and successfully integrating solutions
Our manufacturing footprint provides significant scale advantages within addressable markets. Manufacturing and distribution facilities are strategically located to optimize service levels and product delivery times.
We are media-agnostic and application-driven
Come visit us in two locations at SCTE Cable-Tec Expo. The legacy CommScope Broadband Business Unit will showcase its solutions in booth #633, including:
PON Solution
Flexible chassis accommodates both EPON and GPON technologies
Designed to be deployed in residential FTTx, access networks for commercial accounts, multi-dwelling units, commercial in-building, security and building automation and wireless access points
Bridge HFC network to FTTx, combines fiber, microducts and coax under one jacket
Mitigate future cost of fiber installation
Maximizing addressability, signal integrity and product life span while reducing corrosion, CPD and noise ingress/egress
Complete family of products helps reduce OpEx and meets subscriber expectations
BrightPath Optical Solution
Deployments allow operators to cost effectively deliver competitive high bandwidth services and fully leverage all of their existing infrastructures
Enables operators to choose a product that meets the needs of today while providing a migration path to the technology of tomorrow
The BNS group will be in booth #1635; stop by to learn more about our new fiber solutions including:
Fiber Distribution Hub (FDH) 4000
Discrete, small-size enclosures overcomes space challenges in crowded hand holes
Addresses the market's needs for below-grade and underground FTTH deployments
Fiber Indexing
Uses common, pre-connectorized building block components to create a plug-and-play network that is faster to deploy
Eliminates the need for custom cable assemblies and splicing
Powered Fiber Cable System
Allows placing network devices exactly where they are needed to maximize coverage
Greatly speeds up planning by eliminating DC electrical calculations for voltage/power drop over varying distances
Fiber Optic Splice Closure
FOSC splice closures leverage innovations in polymers and materials science to create world-class sealing to allow fiber optics to perform in the harshest environments
Rugged, versatile platform that can be used in any environment (aerial, pedestal, buried, and underground)
NG4access ODF platform
Optical fiber distribution frame (ODF), universal chassis, adapter pack, and cabled module solution set
Delivers equal front and rear technician access
Rapid Fiber Panels
Ultimate plug-and-play FTTx solutions
Assist service provides with a worry-free installation when deploying optical fiber distribution networks for various architectures
Mini Rapid Fiber Distribution Terminal (RDT)
Leverages RapidReel cable spool technology to deploy the exact amount of in-building distribution cable needed
The far end of the microcable terminates to a 12-fiber multi-fiber push-on (MPO) or hardened multi-fiber optical connector (HMFOC) ensuring faster cable routing and equipment terminations by the technician
By uniting our complementary solutions, technologies and geographic and market coverage, CommScope is creating a stronger platform from which to serve our customers. Please stop by either of our booths during the show to learn more about the new CommScope.
Welcome to the new CommScope, and we hope to see you in New Orleans.