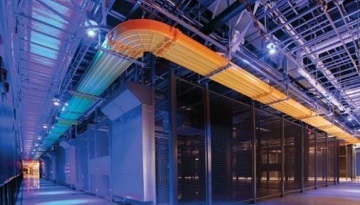 High-frequency trading and multi-tenant data centers are making their big screen debut this March with the release of "The Hummingbird Project." Staring Jesse Eisenberg, Alexander Skarsgård, and Salma Hayek, this modern epic showcases the increasingly competitive side of high frequency trading. Eisenberg and Skarsgård star as cousins from New York whose goal is to build a straight fiber-optic cable line between New Jersey and Kansas. But Hayek, their former boss, will stop at nothing to make sure that doesn't happen.
CLICK TO TWEET: Multi-tenant data centers are getting the Hollywood treatment. CommScope's Caitlin Pinkerton explains and previews our latest case study with Equinix.
I didn't expect to be excited to go see a movie about a fiber-optic cable and high frequency trading but being a big fan of Jesse Eisenberg, my interest was piqued, and I decided to watch the trailer. As I was watched it, I realized how similar this was to CommScope's latest case study on its partnership with Equinix. The term "milliseconds mean millions" rang true in both scenarios, which made me even more interested.
Each day $5.3 trillion is traded across the globe, which makes latency equalization of the utmost importance. Equinix wanted to ensure that all its partners were receiving identical latency regardless of where they're located on their campus as to not provide an unfair advantage.
With their partnership with CommScope, Equinix was able to deploy an underground outside plant solution that did just that. Their infrastructure is now on Platform Equinix and they can directly connect with other financial trading partners and make changes as needed in an ever-shifting market. You can read more about the partnership between CommScope and Equinix here.
After reading about their success I was more excited to see if Eisenberg and Skarsgård can outsmart Hayek in this new movie. I'll see you at the movies. I'll buy the popcorn.
Additional resources: