(Note: The following has been submitted as a guest post to CommScope Blogs by Kye Prigg, Head of Networks, Vodafone UK. Opinions and comments provided in this guest post, as with all posts to CommScope Blogs, are that of the author and do not necessarily reflect the views of CommScope.)
Bath, a town set in the rolling countryside of southwest England, is well known for its natural hot springs and 18th century Georgian architecture. Designated as an area of outstanding beauty, it's no wonder nearly one million tourists visit the city each year.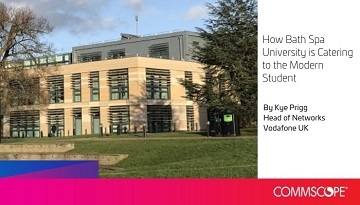 The city is also frequented by thousands of students annually. Aside from the stunning historical landscape, academic challenge and nightlife, students at Bath Spa University at Newton Park can also enjoy a high-speed mobile data service.
Tech savvy students, who own multiple devices, expect to be able to access learning material using their smartphones, tablets and laptops. This mobile-first generation will most likely use two to three times as much data as the typical user. To cater to the always-on mindset, Bath Spa University at Newton Park, which houses a number of the university's 7,500 students, has become the second location in the UK to receive Vodafone's new and unique 4G mini mobile masts - known as CommScope's Metro Cell PoleCab.
At half the height of a standard mast, the telescopic mini mast is painted to blend in with its environment and, unlike other mobile masts, it does not require a large technology cabinet to house the power supply and electronics.
"Being based in a rural setting, ensuring good mobile coverage is vital for our students and staff. This additional mast is in line with local planning rules, and is improving coverage both on campus and for our neighbours," said Neil Latham, the University's Chief Operating Officer.
Installing a future-proof digital communications network in a world heritage site is not without its challenges. I'm delighted that by working closely with Bath Spa University, local authorities and residents, we are building a network that Bath can be proud of, while minimising the aesthetic impact on the ancient city. Our new mini mobile mast is just one of many new ways we are ensuring that Bath gets first rate mobile connectivity, without impacting its historic splendour.
Students on VOXI – Vodafone's mobile network for under 30s – will receive unlimited data for social media apps as well as superfast data speeds.