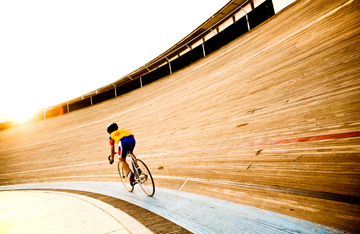 The 20
th
century was not a brilliant time for British cycling. In fact, it struggled to achieve mediocrity. In a time span close to 100 years, the country won just one Olympic gold medal and never once won the Tour de France.
Then, in 2003, something changed. The governing body for British Cycling appointed Dave Brailsford, a former bicycle export sales manager, as its performance director. He implemented a philosophy known as the "aggregation of marginal gains:" if you broke down everything you could think of that goes into riding a bike, and then improved it by one percent, you will get a significant increase when you put them all together."
The British Cycling team started making many slight changes to all elements of their bikes. In just five years, the UK squad won seven of the 10 gold medals available at the 2008 Beijing Olympics and went to on become the dominant force in world cycling.
CommScope adopted that principle early in 2018 upon reviewing one of its online applications called "My Projects". This was an application that enabled users to create and store lists of parts and create Bills of Materials and mini-catalogues. It also exported the product attributes to an Excel file and had a Request-for-Quote option.
The performance of My Projects was, at best, mediocre. Metrics showed a core group of loyal users but that, in general, new users used the tool once and rarely returned. This was worrisome for us as a team because we were convinced that the basic premise was a solid one.
CLICK TO TWEET: What does British cycling have to do with CommScope? Plenty!
We conducted a series of user surveys and feedback sessions, and then collated all the data and recommendations. We then had to make a decision. Should we throw everything away and start from scratch, or should we work with what we had? We decided to go with what we had and invoke Brailsford's philosophy.
We dissected every element of the app from the look and feel of the opening page to how many clicks it took to add a project to a list and from the contents of the exported Excel file to what the Request-for-Quote button did. We then set about making multiple small improvements based on the feedback from our surveys and user experience best practices. We improved the layout. We improved how product lists are displayed. We added duplicate and share features. We improved the content of the exported Excel file, and we automated the process behind the Request-for-Quote option. We even changed the name of the app to "My Product Lists" which better describes what it does.
Thanks in no small part to the British cycling team's philosophy, we made dozens of small tweaks and improvements that, when all added up, resulted in a significantly improved user experience and one which we are confident will benefit all users.
The My Products List application can be accessed through the My CommScope portal which also contains registration information for new users. We have also produced a short tutorial video and created an infographic highlighting the key improvements.