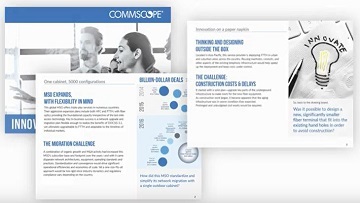 Does anyone read printed books anymore? With the advent of electronics, you might be hard-pressed to find someone who has a page bookmarked on their nightstand. But on the other hand, the advent of electronics – and the sheer demand for them – makes us good at what we do at CommScope.
We're pleased to offer a new eBook: "The FTTX Case Study Series." Each chapter in this book offers a different example of how our customers have helped us become more innovative. The book tells how we helped standardize a company's network after several mergers, and how we trained fiber optic technicians on an ambitious broadband rollout, among other things.
CLICK TO TWEET: CommScope dedicated eBook of case studies to customers who inspire innovation.
Each chapter tells a story we're proud to share. And we couldn't have done it without our customers. Take a look at the new eBook and check out this video for more information about how customers inspire our innovation.