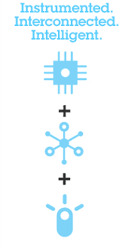 (Note:The following has been submitted as a guest post to CommScope Blogs by John Short, global cabling offering manager at IBM. Opinions and comments provided in this guest post, as with all posts to CommScope Blogs, are that of the author and do not necessarily reflect the views of CommScope.)
We see it all around us. The world is getting smarter and more connected.
Our world is becoming instrumented: today, there are nearly one billion transistors per human, four billion mobile phone subscribers, and 30 billion radio frequency identification tags produced globally.
Our world is becoming more interconnected: soon there will be two billion people on the Internet. But it doesn't stop there. We now see an "Internet of Things" where systems and objects can "speak" to one another.
This is resulting in an explosion of data. The good news is, thanks to advanced analytics, we can turn that information into insight. The resulting intelligence can be used to make our systems, processes and infrastructures more efficient, productive and responsive.
An optimized and intelligently managed cabling and connectivity infrastructure solution can be designed around these three elements:
The instrumented layer provides information required by the infrastructure management systems to perform analytics on the building and data center systems. An example of the instrumented layer includes the use of sensors and associated devices to integrate and relay information.
The interconnected layer leverages converged infrastructure approaches to align the physical and logical infrastructure, thereby improving operational efficiency. Examples of the interconnected layer include: building management, monitoring, access control, security, video, voice and data systems.
The intelligence layer provides infrastructure management capability to meet availability, capacity planning, asset tracking and increased productivity requirements. An example of the intelligence layer is found during management of the cabling infrastructure for moves, adds and changes.
If you would like to hear more about how these elements are involved in your cabling and connectivity infrastructure, there is an opportunity for you to do so in-person. During the month of October, IBM will join CommScope and its partners in a multi-city "Innovation@Work" event to provide a comprehensive view of trends, technologies and best practices in the data center and smart building industries.
"Innovation@Work" begins October 1 in Kansas City, Mo., followed by stops in Chicago, Seattle, Santa Clara, Calif., New York, Boston, Atlanta, Dallas and Toronto. To register or learn more, click here or visit CommScope.com. I hope to see you there.