A round-up of news, info, updates and even triviality that you may find useful: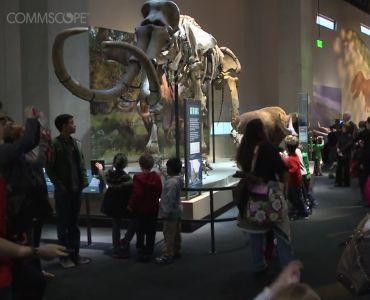 Since my childhood is far in the rearview mirror, I won't try to sound like a current youngster when describing the Perot Museum of Nature and Science in Dallas. However, I'd say both kids and adults can agree that"cool" and "awesome" are apt descriptions. Young and old alike have been flocking to this awe-inspiring facility since it opened in 2012. Here is a short video that provides a glimpse into the museum, including howsmart network infrastructure choices laid a strong foundation for its success.
With all the technology advancements over the past several years and resulting potential productivity andefficiency gains, you'd think that life has become relatively easy for the folks in charge of buildings, data centers and other business-critical functions.

Think again!
The pressures, complexities and risks faced by people responsible for the network infrastructure that supports businesses and facilities probably are far greater than ever before. In part, it is due to heightened expectations and business-impacting opportunities created by the very technology innovations that we see regularly. If you're among those sweating these enterprise networking issues, CommScope can help. For example, we are hosting one-day events in nine North American cities in October to provide a comprehensive view of trends, technologies and best practices in the data center and smart building industries. These educational workshops will include in-depth discussions around data center infrastructure management, intelligent lighting, connectivity solutions and in-building wireless solutions. CommScope will be joined by experts from IBM, Brocade, Aquantia, Avago and Redwood Systems at these forums. "Innovation@Work" begins October 1 in Kansas City, MO, followed by stops in Chicago, Seattle, New York, Boston, Atlanta, Dallas, Santa Clara, Calif. and Toronto. The events are free of charge. To register or learn more, click here or visit CommScope.com.
Awards are nice, but none are more satisfying than those given to you by a customer. AT&T recently presented the AT&T 2012 Supplier Diversity Crystal Award to a select group of its "prime suppliers" who attained and/or exceeded 21.5 percent diversity utilization in 2012. CommScope was selected as a recipient of the award, which is exemplary of our commitment to collaborating with our customers, suppliers and the local communities alongside of AT&T. Notably, the award recognizes our performance in contributing to AT&T exceeding its diversity spend target for its supplier program.
Lastly, our continued thanks to you for your readership of CommScope Blogs. Visits to our site continue to grow (including a record number in July) and we are appreciative of this response. I also thank the roster of CommScope bloggers who take time from their busy days to share insights and opinions on industry topics. I encourage your topic suggestions and comments to our posts in the space below.