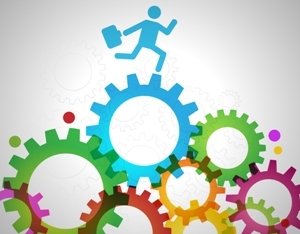 Many private and public sector organizations may be unaware that they could take steps to make better use of their office space to drive up employee productivity and cut costs at the same time. Getting the most out of employees and their workspace makes sound business sense.
Conventional workspaces fall short
Many companies have too much office space to begin with and yet they struggle to provide adequate spaces for their teams when they need to work. Surveys show that offices have 50 percent or less desk utilization and in the UK, office space utilization can be as low as 40 percent.
Despite such low numbers, many teams find it difficult to work effectively in conventional office workspaces. That is because key staff − the ones most likely to win business and fulfill contracts − typically cannot work in strict and rigid departmental hierarchies. Instead, they are more likely to work in project teams that change as client or organizational needs change. Conventional office space configurations may not be able to handle these changes.
A different approach is required; one that accommodates office designs to the working practices of teams in today's organizations. This requires an office workspace to become flexible in how teams and workers occupy different spaces throughout a work week. It also requires buildings and facilities management to become efficient with how they heat, light and ventilate areas of the building, centered on an occupancy-based policy.
Becoming more flexible and adaptive with office workspace can improve employee retention and work life balances. This can help employees become more productive, make workspace utilization more cost effective, and cut energy and operational running costs.
Making it happen: intelligent building infrastructure
There are two main objectives gained in moving to workspaces that dynamically accommodate work teams. The first objective is workforce productivity. The second objective is building efficiency − cutting the costs of accommodating employees and making buildings more sustainable. Both of these objectives require intelligent building infrastructure.
Organizations with work teams comprised of staff that work offsite need to adapt their building infrastructures to the demands of a mobile workforce. Employees and teams that work and communicate using mobile technology will require a building network infrastructure that supports those needs seamlessly and ubiquitously. This includes high speed Wi-Fi, fixed line and indoor mobile to ensure that connectivity keeps abreast of the latest technologies and network speeds.
Equipped with high-speed broadband Wi-Fi and indoor mobile, as well as high-speed fixed-line networks, allow teams to work seamlessly with the same technologies whether they're meeting in a cafe, a meeting room or across desks.
An intelligent building infrastructure provides a common, low cost platform for building automation systems and sensors. It enables the creation of a granular network of occupancy sensors throughout the building, capable of capturing large data sets of actual building use in real-time.
Granular sensor data also enables a far more flexible, dynamic approach to making office space, meeting rooms and other facilities available to teams or individual employees when needed. Reserved spaces are frequently unused, blocking productive use by teams that need them. Booking systems using real-time occupancy data allow employees to work at their most productive, dynamically adjusting to their needs.
Today's employees and work teams have become far more flexible and mobile in how they work, in response to business needs that have become more adaptable and fast moving. Intelligent building infrastructures will enable office spaces to match the flexibility, pace and agility that businesses require from both their work teams and facilities.