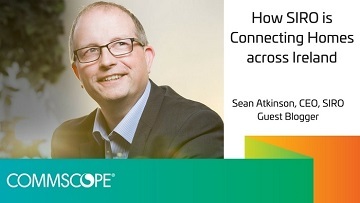 (Note: The following has been submitted as a guest post to CommScope Blogs by Sean Atkinson, Chief Executive Officer, SIRO. Opinions and comments provided in this guest post, as with all posts to CommScope Blogs, are that of the author and do not necessarily reflect the views of CommScope.)
European electrical utilities recognize the digital economy as a key pillar of future growth and competiveness on the world stage. These companies see the Internet as a utility -- building and owning an open-access fibre to the home (FTTH) infrastructure and leasing it to partners who in turn, offer retail internet and other services to subscribers.
CLICK TO TWEET: Learn how SIRO is connecting homes across Ireland thanks to CommScope. Read Sean Atkinson's blog.
SIRO is the only network in Ireland that uses the existing electricity network to provide fibre broadband to homes and business, enabling speeds of 1 gigabit per second.
As we rolled out our network, we faced the challenge of building fibre to the home (FTTH) on top of a live electrical distribution system. SIRO teamed with CommScope, to provide industry expertise and hardened connectivity products, which reduced costs and protected against the elements.
When speaking to network operators, they know the demand for performance will continue, from bandwidth to batteries, across every technological dimension. A brighter future is built on smarter networks – that's why we're using light powered gigabit broadband for homes and businesses across 50 towns all over Ireland.
Watch this video interview to uncover more.
>