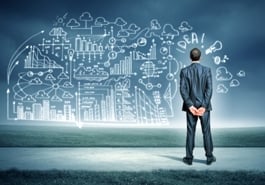 A few months ago, I blogged about how software defined networking (SDN) can help enterprise customers gain agility and better control of their data center networks. Recently, I was asked what is available for telecom service providers, including mobile network operators, so they can build their next generation networks. I recommend a strategic approach that involves Network Functions Virtualization (NFV), which is similar to SDN, but not a carbon copy.
Traditionally, network operators build their infrastructure using a large variety of proprietary hardware equipment. With the latest trends of Ethernet/IP and virtualization, network operators would like to consolidate infrastructure hardware to IT standard high volume platforms including 19-inch rack-mounted servers, blade servers, storage systems and Ethernet switches/routers. One key driver of NFV is when service providers want to virtualize their network services and functionalities through software such as hypervisor.
Another driver for NFV can be found when service providers transform themselves from hosting providers to cloud providers. The incentive is to leverage common technologies, even infrastructure elements, allowing service providers to deliver cloud as well as network services.
Some say that NFV is just SDN for service providers and other say there are some overlaps in terms of services or functionalities. If either of those is true, then what is NFV? How is it different from SDN and the cloud? Hopefully the table below will help provide the answer.
Cloud Computing

SDN

NFV

Definition

An on-demand service of compute, storage, network and/or software

An architecture controlling (aka "defining") network functions, traffic flows and topologies by dynamically programming network devices

An framework virtualizing carrier network functions by using IT standard high volume servers and standard Ethernet switches/routers

Customers

Cloud providers;

Enterprises

Cloud providers;

Enterprises

Carrier network operators;

Mobile network operators

Applicable Environment

Data centers

Data centers

Carrier data centers, switch rooms, CDN sites

Key Values to Customers

CapEx to OpEx conversion;

Service agility;

Automation

Agile network services; Dynamic, better control on networks;

Automation

CapEx saving;

faster time to market

Automation

Core Technologies

Server and storage virtualization;

Orchestration

Network virtualization;

Control plane and data plane disaggregation;

Orchestration

Network, server and storage virtualization;

Orchestration

Adoption Stage

Adoption accelerating

Early stage

Early stage

Open Source or Standard

OpenStack

OpenFlow;

OpenDaylight

European Telecom Standards Institute (ETSI) standard for NFV

As indicated in the table above, there are many differences between NFV, SDN and cloud; however, there are some commonalities among the three as illustrated in the figure below. In the figure, VM stands for Virtual Machine, representing virtualized compute, storage and network resource. VNF represents Virtualized Network Function and APP is application.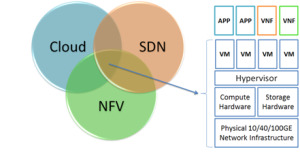 With the NFV approach, service providers can:
Leverage IEEE standard 10/40/100 Gigabit Ethernet and Carrier Ethernet technologies
Connect IT standard, high-volume rack-mounted servers, storage, blade servers together
Virtualize and pool these resources together
Build the virtualized infrastructure for radio access networks, Evolved Packet Core, Content Delivery Networks, etc.
With these benefits in mind, NFV looks promising, feasible and rationale to service providers. Hyperscale and enterprise data center customers have started a similar journey with cloud and SDN.
CommScope is ready to help telecom service providers build next generation data center networks. If you have any questions about SDN or NFV, leave a comment below and I will be sure to respond.