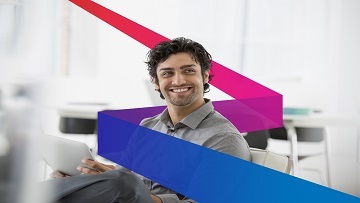 There are different ways people learn today. These methods include classroom, textbooks, computers, handheld devices, and other electronic appliances. In a rapidly changing society where there is a great deal of available information and knowledge, adopting and applying information at the right time and right place is needed to maintain efficiency in both classroom and real world settings.
Three technologies are likely to change how we learn in 2018 and beyond:
These technologies will also likely increase momentum in continuous learning models such as encompassed by the 70/20/10 methodology.
CLICK TO TWEET: According to CommScope's James Donovan, VR, AR and Gamification are likely to change how we learn in 2018.
Virtual Reality (VR)
VR has the unique ability to transport you to an entirely fabricated, yet seemingly completely real environment, and this makes it perfect for educating individuals and teams on the different scenarios they may face whilst doing their jobs. In VR, you can create the exact scenarios students will be expected to handle on the job. Learning by doing is proven to work better than learning by observing, and this is exactly what VR can offer.
VR is also perfect for quantifying how students perform in training, both for setting benchmarks on how well staff should perform, and for showing how an individual's performance improves (or not) over time.
Augmented Reality (AR)
Both VR and AR are similar in the goal of immersing the user, though both systems do this in different ways. With AR, users continue to be in touch with the real world while interacting with virtual objects around them. With VR, the user is isolated from the real world while immersed in a world that is completely fabricated.
It is highly likely that AR can make educational environments more productive, pleasurable, and interactive than ever before. AR not only has the power to engage a learner in a variety of interactive ways that have never been possible before but also can provide each individual with one's unique discovery path with rich content from computer-generated three-dimensional environments and models.
Gamification
Gamification in eLearning is fast emerging as an effective technique to engage learners. Gamification is the process of applying gaming designs and concepts to learning or training scenarios to make them more engaging and entertaining for the learner. The learner can experience "fun" during the game and still learn if the level of engagement is high. A good gamification strategy with high levels of engagement will lead to an increase in recall and retention. It provides instant feedback so that learners know what they know or what they should know. This too facilitates better learner engagement and thereby better recall and retention. Points, badges, and leaderboards make training competitive and drive strong behavioral change especially when combined with the 70/20/10 principles.
The 70/20/10 learning and development model
The 70/20/10 learning and development model, developed in the early 1990s by Robert Eichinger, Michael Lombardo and Morgan McCall, asserts that:
70 percent of learning and development takes place from real-life and on-the-job experiences, tasks, and problem solving
20 percent of the time, development comes from other people through informal or formal feedback, mentoring or coaching
10 percent of learning and development comes from formal training
The 70/20/10 model is about creating a culture of recognizing informal learning as well as promoting opportunities to learn informally. People should realize they are learning as they are doing, rather than thinking they always need to attend a training session in a classroom. I believe it is a philosophy, not a formula, and the technologies discussed will inevitably help support it. It is a powerful way to engage and encourage employees.
Networks will play a key role
With all these new digital ways of learning, networks will need to expand and evolve, helping handle the increase of data upstream and downstream. This is because the IT environment is becoming overloaded with real-time web content, voice and video streaming, mobile applications, gaming, big data analytics, and Internet of Things technology.
We are also moving from 10Gbs and 40Gbs to 100Gbs, 400Gbs and beyond. Speed is an issue because consumers expect things to flow quickly and this is one of the top challenges that data center managers will face. We are seeing this because of the two mobile generations—Millennials and Generation Z. According to our data, 44 percent of Gen Zers are interested in VR.
Mobility (learning where you want and when you want) is also important. Three out of four Millennials agreed that they could not survive one full day without their smartphone. The same goes for Gen Z where more than 60 percent of them find it difficult to live without their smartphones.
What is the CommScope Infrastructure Academy doing about these trends?
The CommScope Infrastructure Academy has embraced this philosophy by moving much of its formal training material to an eLearning delivery. It enables formal training to be consistently delivered, when, where and at the pace of the student, and it remains available for further review as they learn on the job and with the support of experienced coaches or mentors. In 2018, and beyond, we hope to take advantage of gamification, VR and/or AR to truly engage designers and installers of infrastructure solutions as we further develop education material for our solutions.