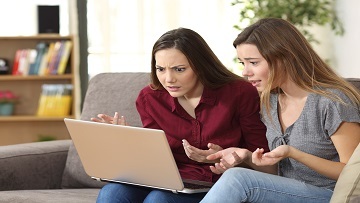 We recently experienced an interruption of internet service at our house because of some bad weather. Normally it's nice to spend an evening away from email and connected devices; however, our TV watching habits have changed so drastically that this outage hit where it really hurts. Not having access to our normal streaming services (yes plural) created what was referred to as an evening of "disaster" at our house. Finding a program on "normal" TV proved to be a tremendous challenge. What did people do back when there were only three stations to choose from with forced commercial breaks (gasp)?
CLICK TO TWEET: Some broadcasters are going all the way through the broadcast center with fiber; however, copper isn't going away any time soon.
The reasons we now have so much flexibility in our programming is because of the evolution of the technology available to broadcasters. One of the most obvious being the migration from copper to fiber. All this technology change started about eight years ago, when one broadcaster deployed a CommScope fiber backbone complete with fiber optical distribution frames. All the other major networks followed their lead and made similar steps in that direction. These infrastructures are designed as "wheel and spoke" fiber backbones. It is probably no coincidence that streaming, as we know it today, began within about that same timeframe.
In addition, internet protocol (IP) routing has now started to become more accepted in broadcast--sometimes in the backbone and sometimes out to the studios. The future will be both. This type of IP routing has changed the broadcast landscape. Since video streams need to be packetized and routed in a certain format and have various places with in the broadcast center to go (i.e., graphics, editing, transmission, distribution, etc.), it gives broadcast centers something of a proprietary infrastructure. CommScope understands the unique nature of this industry which separates us from our competitors.
A few broadcasters are now moving to all fiber networks. If the past can predict the future, then our expectation is that more will follow. Some with a more aggressive approach are going all the way through the broadcast center with fiber as well; however, copper isn't going away any time soon. That is true with smaller broadcast facilities and mobile production trucks because those will likely remain copper for years to come.
Regardless of whether it is fiber, copper or traditional audio/video jacks, CommScope has the depth and breadth of products to support the broadcast industry and provides a broadcaster the unique one-stop shop for most of their infrastructure needs. What this means for the consumers is there will be more programs to stream, more choices to make, and hopefully fewer "evenings of disaster." The technology shift is all about pushing out more content faster and more reliably. Fortunately, at my house the internet service was restored within 24 hours and we were back with thousands of options to satisfy our binge-watching habit without commercial interruption.
Additional resouces:
Realize Your Vision of the Fiber Future