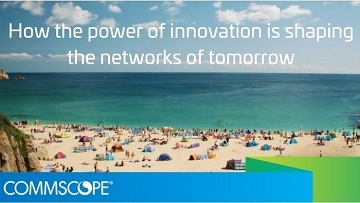 (Note: The following has been submitted as a guest post to CommScope Blogs by Kye Prigg, Head of Networks, Vodafone UK. Opinions and comments provided in this guest post, as with all posts to CommScope Blogs, are that of the author and do not necessarily reflect the views of CommScope.)
Porthcurno in my home county of Cornwall (UK) isn't just one of the most beautiful places in the world. Thanks to the power of innovation, it's also the birthplace of global communications. In 1870, Porthcurno's sheltered cove became the landing site for submarine telegraph cables that eventually connected the UK and India, more than 4,700 miles away. The magic of the telegraph meant that you could send messages from Britain all the way to Australia in less than 24 hours, instead of waiting weeks and weeks for letters to be delivered by ship.
CLICK TO TWEET: As part of Vodafone UK's commitment to promoting regional development, it partnered with CommScope to bring innovative technology to Porthcurno. Read Kye Prigg's blog.
If you stop by Porthcurno's Telegraph Museum you can still see the little hut, built in 1929, where telegraph cables from all over the world came ashore. Technology moves on of course, and these days, people expect to be able to reach one another and exchange messages within seconds, not hours. But until recently, mobile coverage in what was once considered the world's most connected valley was intermittent, unavailable even in some areas, frustrating locals and the hundreds of thousands of visitors who flock to Porthcurno and its beautiful beach every summer.
Deploying innovation to connect an area of outstanding natural beauty
Porthcurno is such a scenic spot that any connectivity solution would have to consider the visual impact on the surrounding area. That's where innovative technology comes in.
As part of Vodafone's commitment to promoting regional development and supporting the UK as a global digital leader, we partnered with CommScope to bring this innovative technology to Porthcurno. We installed a 4G mini mobile mast – known as the Metro Cell PoleCab – on the grounds of the Telegraph Museum. What's great about the mini mast is how compact it is compared with the average mast you'd expect to see in the UK. When extended to its tallest point, the mini mast is only eight metres high, around half the height of the shortest standard mast.
Mini masts can be painted to blend in with their environment, and unlike other mobile masts, they don't require a big cabinet to house the power supply and electronics. They're also quicker to install, taking around six months to become fully operational – about a third of the time it takes to install a standard mast.
Recently we completed a successful trial of the mini mast, achieving an industry first, I'm proud to say. This mast now provides customers with 4G mobile data speeds of more than 200 megabits per second (Mbps) in this historic part of the country, including Porthcurno beach.
How innovation is shaping the networks of tomorrow
From telegraph cables to mini masts, Porthcurno's role in communications history reminds us of the power of innovation to connect people. That's all the more important in the digital age. People today expect to be able to connect with friends and family at all hours of the day, wherever they are.
That's especially true for Generation Z, those aged 13-22. They're mobile-first – they check their phones every three minutes on average, and they use two to three times as much datacompared to the typical user. To cater to this always-on mindset, communications providers need to ensure that they're building a robust, reliable network that can handle soaring data traffic. At Vodafone for instance, our network carried over 60% more data in the six months to September 2017 as compared to the year before, and almost 80% of that traffic was carried over 4G.
The smartphone isn't the only innovation that's shaping the networks of tomorrow. Another is smart devices. Many of us are already using them – in fact, 52% of UK consumers say they own such devices, such as smart TVs. Vodafone recently introduced its own 'Internet of Things' (IoT) product range, called V by Vodafone, to enable people to stay connected to the things they care about, including a bag, pet or car. Given that the UK's IoT connections are expected to grow at a compound average rate of roughly 36%, from 13.3 million connections in 2016 to 155.7 million by 2024, that's even more reason to ensure that our networks are ready for the future – and the benefits that technology can bring.