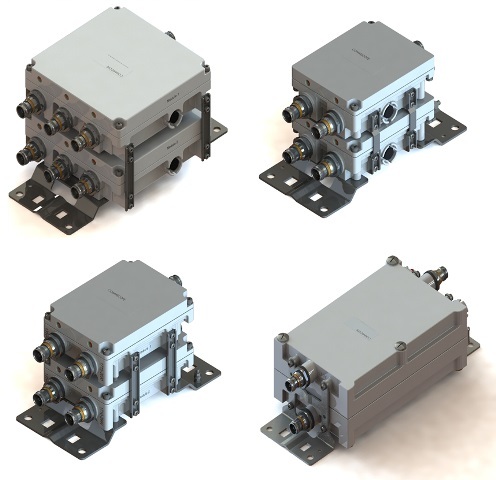 As wireless networks evolve, the number of technologies and frequency bands being deployed on mobile sites is increasing. But many rooftops and cell towers are already overloaded with network equipment. Adding new frequency bands into networks without overloading already crowded cell sites is a challenge most mobile network operators face today.
To incorporate new spectrum into existing cell sites without adding a lot more equipment, operators need a variety of RF path filter solutions such as multiband combiners and tower mounted amplifiers (TMAs). CommScope offers a broad portfolio of such solutions, including new models for the most recent frequency bands being deployed.
Some of the new bands being added these days include the L-band spectrum (1400 MHz), which is being used for supplementary downlink LTE (SDL) in some European countries. C-band (3.5 GHz), which is the most popular band allocated for upcoming 5G networks, is already being trialed in multiple regions. Unlicensed frequency bands such as 5 GHz are also being used today to offload traditional mobile networks.
CLICK TO TWEET: How to Add New Spectrum into a Wireless Network

CommScope has introduced a portfolio of 1400 MHz-ready multiband combiners and TMAs for high performance, cost-effective, end-to-end solutions in pair with our wideband antenna for the introduction of L-Band. Our multiband combiner solution accelerates the introduction of 1400 MHz with limited investment and superior performance.
CommScope has also introduced its first multiband combiner triplexer models that operate in the C-band 3.5 GHz and unlicensed 5 GHz bands. This new design is MIMO-ready for LTE applications in LTE1800, LTE2100, LTE2300, or LTE2600, and can be used for license assisted access (LAA) and 5G. These triplexers can be paired with the CommScope multiport small cell antenna for a total densification solution in preparation for 5G. They offer superior performance while integrating mobile 2G, 3G and 4G/LTE 5G and Wi-Fi frequency bands.
As space and zoning requirements get more challenging on cell sites, RF path filter solutions play an ever more significant role in simplifying network architectures. CommScope is proud to offer a variety of combiners and TMAs, including the new multiband triplexer supporting 5G bands, to meet our customers' needs around the globe. Have a question? Leave me a comment, and I'll gladly reply.