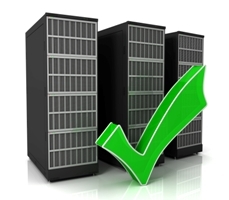 Today's data centers are evolving at an unprecedented pace thanks to technologies such as virtualization, various types of cloud computing and software-defined networking. These technologies bring tremendous value to customers but they also compound complexity. In this increasingly complicated data center environment, you may be wondering if applications are performing as they should. When a problem occurs, such as sluggish storage response, you certainly want to shorten the troubleshooting time and, whenever possible, prevent problems from happening. So the real challenge becomes how to help monitor your data center application performance and improve data center productivity.
A viable option to help you address this challenge is the network traffic access point (TAP)-based performance management system, as shown in the figure below. The passive optical fiber TAPs pass through network traffic to support normal network operations. At the same time, the TAPs couple network traffic to the performance management system. The performance system supplies actionable information to data center managers.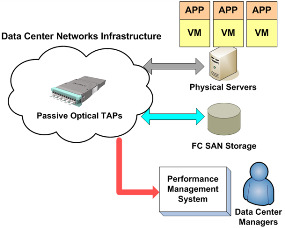 Figure: Fiber TAP-based Performance Management System
The TAPs enable real-time monitoring and provide zero loss of network traffic information. Also, they can be deployed as part of the data center fiber cabling infrastructure. For example, the SYSTIMAX® InstaPATCH® 360TM TAP module can be seamlessly integrated into SYSTIMAX fiber cabling.
In general, a TAP-based performance management system delivers full visibility on monitored networks from the physical layer (Layer 1) to the application layer (Layer 7) in real-time without any network packet losses. The actionable information from the system may help save operating costs and troubleshooting time while reducing the risk of application downtime.
Recently, a large global semiconductor manufacturer adopted the InstaPATCH 360TM TAP solution at the initial stages of implementing its data center core network links to make the infrastructure ready for monitoring at anytime, anywhere, without interruptions. If they had used the traditional TAP approach, they would have had to schedule downtime to install the TAPs and then connect them to a monitoring system. The traditional approach would waste precious troubleshooting time and introduce undesired insertion loss in the fiber cabling.
If you would like to know more about how CommScope's fiber TAP solution can help improve the performance of your data center applications, leave a comment below and I will be sure to respond.