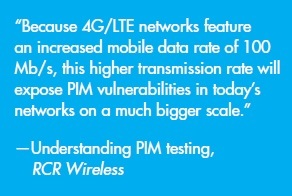 In just a few short years,
passive intermodulation (PIM)
has gone from a vaguely understood but accepted nuisance to a
major concern
that wireless service providers seek to manage and minimize. PIM's rise in importance coincides with the increasing
complexity
of today's wireless networks, including the use of higher orders of modulation and more frequency bands. As wireless service providers add the most recent
4G/long-term evolution (LTE)
capabilities to their networks, the incidence and effects of PIM on performance and profitability are
on the rise
.
In the testing lab and among RF engineers, PIM is a key concern. Wireless service providers have been vigilant about establishing more stringent PIM standards. Many system vendors have created proactive processes and testing procedures to ensure these standards are being met, if not exceeded.
When it comes to field-testing by installers and services technicians, the awareness of PIM and how to properly detect it may not be as strong as it needs to be. Field testing for PIM introduces a number of additional variables that, if not properly accounted for, may result in wide-ranging discrepancies and inaccurate readings.
CommScope has developed a new white paper called PIM Testing: Advanced wireless services emphasize the need for better PIM control to offer wireless service providers and installers a better understanding of how PIM is created in today's multilayered, highly sensitive networks. It also addresses how to accurately field test for PIM and neutralize the variables that may affect test results.
Do you have questions about PIM or the material covered in the white paper? Leave me a comment below, and I'll answer them.