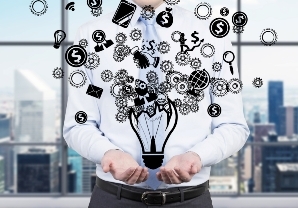 The Intelligent Buildings Institute defines an intelligent building as "one which provides a productive and cost-effective environment through optimization of four basic elements: structure, systems, services and management, and the interrelationship between them." As we look to the future of intelligent buildings, it's important to have a vision with this definition in mind, and how new technologies will influence the workspace structure.
Innovative workspace flow and efficient uses of space are crucial to gaining optimum performance for the intelligent building. A cost-effective building intelligence platform will use components and technologies that deliver optimum performance through proper space usage, energy efficiencies and workforce productivity.
Companies are realizing the benefits from liberal work-from-home policies; however, determining how to design office spaces around this flexible worktime is challenging. Millennials are entering the workplace and prefer open areas and relaxed atmosphere for quick communication and collaboration. The question for space planners now is how people congregate when left without the defined borders that were traditional with hard wall offices and dark hallways. More focus is being placed on workforce productivity. We've exhausted the free meals at work, onsite gymnasiums and other conveniences. Now the next step is towards a more productive use of every minute, including efficient conference room scheduling and comfortable workplace ventilation and temperature.
To answer these questions and challenges in the area of space usage, intelligent sensor networks are being deployed. These systems also work with software that gives the user near real time and historical data on when, where and how space is being used across classrooms, conference rooms, shared spaces and even individual desks. Applications added to this software provide further features like space usage modeling and capacity planning.
For energy, LED lighting is an environmentally-friendly alternative to traditional fluorescent lighting and is installed over cost efficient unshielded twisted pair category cabling. Users installing LED lights are seeing savings initially up to 50 percent in energy costs, with as much as 75 to 90 percent when controlled using the fine grain feedback provided by sensors that detect daylight and motion. LED lighting platforms also provide control solutions along with its sensor's motion and temperature data to easily leverage and provide intelligence to HVAC systems. By using occupancy controlled sensing rather than a scheduled HVAC system, intelligent systems help save substantial energy on environmental components that don't need to operate when the building isn't in use or fully occupied.
These building intelligent platforms can use a network of third-party applications that provide improved work force productivity. So much time is wasted today as employees try to find spaces to be productive in a building. Sensor data can be visualized so that employees can see, in real-time, where space is available to meet and work in the building. That same occupancy data can be leveraged across conference room management systems so that the sensors trigger real time adjustments to the system based on actual rather than planned occupancy. Wasteful events like "no shows" and early departures are minimized so that your expensive real estate assets of conference rooms and shared spaces are properly used.
Whether seeking to save energy costs through an efficient lighting system, keeping your workforce productive, or planning out your space, building intelligence platforms and sensor networks can help innovate your workspace to provide answers to the latest workspace challenges.
If you would like to learn more, I will speak on this topic during my presentation, "Building Intelligence Platform for Innovative Workspaces," at the ACUTA Conference on October 27 at 12:30 pm EDT. I hope to see you there.
If you can't make it to the conference but have a comment or question, fill out the section below and I will be sure to respond.