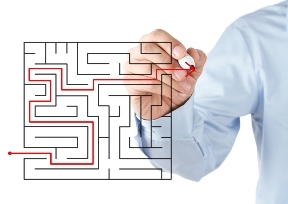 While I traveled this past holiday to spend time with family, I found myself thinking about how often I rely on the mapping apps on my mobile device. Some of the information I try to determine can include: the best route to take, how to navigate around high traffic areas and what time will we actually arrive. These are important bits of information I need so I will not be late for dinner.
If you take a close look at automated infrastructure management (AIM) systems, such as CommScope's imVision, it can provide the same type of information with regards to directions for your data center and your building's physical network.
For example, AIM systems help you to find the most efficient way or "route" options for providing service. They can locate and identify underused equipment and ports. Similarly, an AIM system can give you "turn-by-turn" directions for providing services quickly and efficiently. Do you need to trace or track a connection because you are lost in your network? Just bring up your browser and choose a starting point to get an instant trace showing the path from any point to your "destination." If you are on the same floor as your data center and need to identify downstream equipment or users that will be affected by an interruption in service, you can just touch or click in a controller screen and bring up the map of any channel. Let's say that conditions change and you need to redirect. Real-time tracking of connections are shown on a display that help you avoid cabling hazards. Are you in a new place and not sure where to find the closest local printer? An AIM solution can generate directions for that too.
To save time traveling through and around your network infrastructure, think about using an AIM just as you would use your mobile mapping app when traveling. You won't get lost in your network again and that certainly will help you make it home in time for dinner.
If you have any questions about AIM systems or the CommScope imVision solution, leave a comment below and I will be sure to respond.