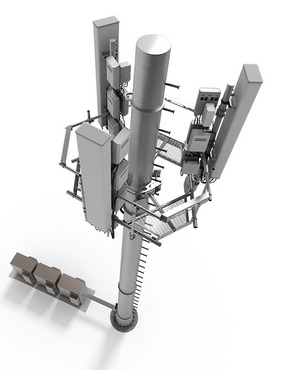 The task of
modernizing a wireless network
is becoming increasingly more complex. While every network must be updated to replace aging technology, the modernization process has the additional challenge of meeting an evolving need—
mobile data consumption
. As consumers purchase newer, more advanced mobile devices, the demand to increase bandwidth only compounds that need.
To meet increasing capacity requirements all the way up to
4G/LTE
, wireless service providers are upgrading from conventional sites to top-of-the-tower
remote radio unit
(RRU) sites. Putting the RRUs close to the antennas involves
deploying fiber and power cable up towers
instead of the coaxial cable traditionally used. This evolved architecture is often called
fiber-to-the-antenna
(FTTA), and it is a
big change
for an industry that has relied on the traditional architecture for 20-plus years.
With change, of course, comes challenge in terms of learning how best to deploy the new architectures…and the challenges of deployment can be daunting. How can you best protect and optimize your current infrastructure while upgrading to new technologies now and in the future? What is the best method for deploying RRUs without overloading the tower? How do you ensure adequate fiber capacity that will enable you to grow while making sure your CapEx and OpEx costs do not spiral out of control?
Our new white paper "Network Modernization: Four practical solutions for cost-effectively modernizing your network" offers specific advice for these challenges. It explores different fiber and power cable configurations for choosing the right connectivity solution. The white paper describes the latest in antenna technology for simplifying the top of the tower. It also touches on one of the more concerning challenges in LTE networks—passive intermodulation (PIM)—and how to limit its appearance.
Check out the full white paper for more details. We also will be introducing a few more white papers about network modernization in blog posts over the next couple months. The new white papers will provide technical keys to modernizing wireless networks including FTTA, multiband antennas, PIM and weight and wind load mitigation. Stay tuned for more.
Have any advice to offer about network modernization? Leave a comment to keep the conversation going.