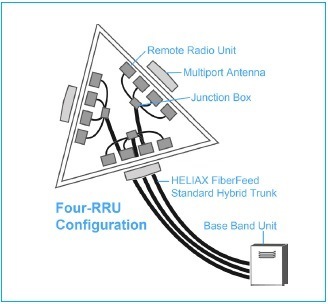 When
modernizing a wireless network
, there are many complex
technical challenges
to consider. To effectively address these challenges, network operators must have the
best strategy
for optimizing their current infrastructure and adapting to new technologies. As we ask in this new
white paper
, how do you make changes to existing tower components to meet the critical needs of
remote radio unit
(RRU) technology without overloading the tower? Just as important, how do you
ensure adequate fiber capacity
that will make your network future-ready, while controlling CapEx and OpEx costs?
With the surge in data demands straining networks, it's up to mobile operators to upgrade their infrastructure and provide the bandwidth their customers expect. RRU technology will play a factor in the choices you make to modernize your network. To support RRUs at the top of the tower, wireless operators must migrate to fiber-optic technology. Moving away from a traditional coaxial system to a fiber network can help operators gain more capacity out of their cell towers. This makes fiber–to-the-antenna (FTTA) architectures one of the primary strategies for today's providers.
We believe that a comprehensive FTTA solution must begin with the basics: your cabling system. It is the core component of your infrastructure. In a typical FTTA configuration, baseband units communicate with RRUs via CPRI (Common Public Radio Interface) or OBSAI (Open Base Station Architecture Initiative) protocol over fiber-optic cable. A short coaxial cable jumper is used only for RF transmission between the RRU and the antenna—an approach much different than a conventional radio transceiver connected to antennas via one long coaxial cable.
We believe this configuration offers four advantages:
It minimizes RF losses, thus improving cell site performance;
It eliminates the need for long, heavy coaxial cables;
It reduces wind load; and
The baseband unit cooling needs are greatly reduced, and less air conditioning equipment means reduced space and power requirements.
So, are you ready to learn some important considerations for deploying FTTA the right way? Download the Technical Keys to Successful Network Modernization: FTTA white paper for explanations about common configurations, choosing the correct cable length, maximizing tower space and more. More white papers about network modernization will be announced in upcoming blog posts soon.
Have you considered deploying FTTA at your sites?