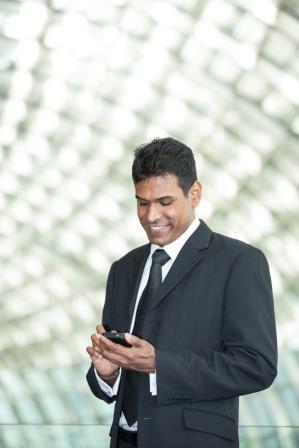 This blog post originally appeared on the TeleTalk blog on ETTelecom.com.
The phenomenon of
BYOD
(Bring your own device) is spreading rapidly in enterprises. As India's workforce becomes increasingly
young and mobile
, the use of smart devices like smartphones and tablets alongside work gadgets is now a
norm
in most offices.
Last year alone, smartphone sales grew almost three-fold to over 44 million, and with the surge of smart devices, it's no surprise that up to
57 percent
of Indian enterprises are already planning to invest in BYOD and mobile technologies.
However, this growth presents its own set of
challenges
. For instance, there is a visible
gap
between the prevalence of mobile device usage within buildings and adequate indoor mobile coverage or capacity. According to the
CommScope Global Enterprise Survey 2013
, 43 percent of all phone calls originating within an enterprise facility involve a mobile phone, however
only 30 percent
of these businesses say their carrier provided in-building signal coverage that is
adequate
to handle the mobile traffic. Importantly almost
three quarters
of the respondents admitted that employees had to roam around within the office or go outdoors for strong enough signal to make a call.
At the
heart of the problem
is the fact that most enterprises operate out of
large buildings and campuses
. The large architectural designs and layouts tend to impact wireless connectivity indoors, often leading to weak or blocked signal areas and
dead zones
where there is no connectivity. With productivity at stake, enterprises are increasingly paying attention to the network coverage within their facilities.
There are a
number of solutions
that can be deployed to improve connectivity. When traditional macro cell sites and towers are unable to reach all corners of a building, deploying a portfolio of
small cells
(remember: a small cell is defined as any RF solution that is crafted to augment capacity or coverage to the macro cell) for large buildings and femto or pico cells for smaller office buildings yields immediate coverage benefits.
Small cell solutions can manage
high-density traffic
while offloading up to 100 percent of the traffic from the surrounding macro cells.
Some operators are also using
cell sculpting
or addition of new sectors with focused coverage (using sector splitting, high gain or high vertical beam width antennas) to throw stronger indoor signals from the outside on selected zones and buildings.
One specific solution that secures investments in future is to deploy active
distributed antenna systems
(DAS). These enable greater coverage and capacity in larger-sized structures, typically above 100,000 square feet or even smaller structures of 25,000 square feet or less. Fiber-optic,
low-power DAS
can leverage sectorization to improve capacity for complex indoor structures.
On the other hand, using fiber-optic,
high-power DAS
is ideal for large structures like shopping centers or high-rise buildings where precise coverage is crucial. Many enterprises are even thinking of
owning and deploying
active DAS solutions themselves instead of relying on operators investments to support the needs to their staff working in the premises.
As mobile devices gain greater importance and see increased usage in the workplace, it is essential that building owners look closely at indoor network coverage
quality
during construction as opposed to following the traditional retroactive approach that is the cause of the number of dead zones seen in buildings today.
The aim should be to develop a
living intelligent building
from the ground up, which inherently supports critical building services such as cellular coverage, video and data and automation systems. The key is to incorporate high performance infrastructure into the building network during the design phase itself and provide ubiquitous cellular coverage through distributed antenna system (DAS) deployment and remote powering requirements. As a consequence, building owners and enterprises can overcome challenges of poor network coverage and enable greater productivity for the
always-connected workforce
.