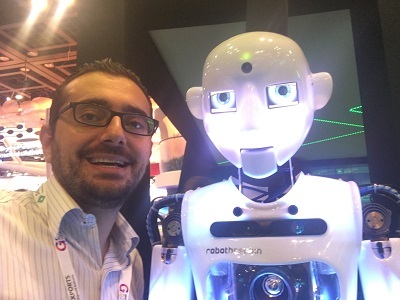 The author William Gibson once famously said,"The future is already here – it's just not evenly distributed." After recently visiting GITEX Technology Week 2016, I came away feeling that Gibson is absolutely correct. Here the 'future' was palpable and concentrated in GITEX like no other place I had visited in the recent past.
The primary objective of my Dubai visit was to exchange ideas related to smart buildings, venues and cities with our customers. However, it was hard not to feel part of something bigger – nearly 150,000 tech leaders, investors, entrepreneurs, government officials, amongst many other first timers, had come to the region's largest technology conference to re-imagine the future of reality.
This was my first visit and I had initially no idea what to expect. After 2 days of wandering around the Dubai World Trade Center, there was an overwhelming sense of excitement. The conference buzz around smart cities, artificial intelligence/augmented reality (AI/AR) and drones really brought the future to life.
In the huge exhibition space of a Middle-East based telecommunication service provider, I noticed a crowd gathered around one particular area. I could see the attraction was a human sized robot that appeared to be moving. "Nothing new in that," I thought as I got closer. However, as I approached to within one meter, the robot slowly turned towards me, looked me up and down and then it said, "Hello, Ispran Kandasamy." Taken aback, I smiled and responded nonchalantly with a "Hello." It then continued with, "You have a lovely smile Ispran – can I call you Ispran?" From there, the robot proceeded to have a perfectly normal conversation before bidding me farewell with a politely extended robotic hand. I stood there for about 30 seconds, with my mouth wide open, trying to understand what had just happened.
In hindsight, this could all be explained. The robot knew my name by either reading my exhibition badge using Optical Character Recognition or scanning the badge barcode. Image processing software helped it recognize my smile and the hand shake resulted from robot pneumatics combined with image processing. The "normal" conversation was the output of simple Artificial Intelligence routines.
Admittedly, these technologies are all well-established in their own right, but it's the speed of technology convergence within the robot that is mind-boggling. As my colleague said to me afterwards, if this exists now just imagine how much more advanced they will be within a few years.
Similar to the domain of the robot, we're experiencing rapid convergence in buildings as the Internet of Things phenomenon drives different devices and applications within the building. If you add to this the growing expectation that people should always be able to connect wherever they are in any building environment, then convergence is critical for success. Drawing a parallel to the robot, the "magic" is in how the software and hardware combine and the enabler is a common wired and wireless physical infrastructure. The question is no longer whether a building is smart or not – it is a question of how smart your building is – and "dumb" buildings, like dumb robots will not survive long in the landscape of the future. However, I do have one regret about my "robotic" experience – I forgot to ask its name.