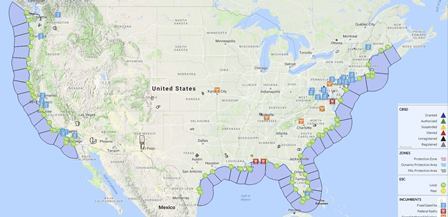 The Wireless Innovation Forum has defined more than 40 acronyms, abbreviations and definitions pertaining to commercial operations in the U.S. CBRS band. We can now add one more to the list: ICD (Initial Commercial Deployment).
Back in July, the FCC issued a Public Notice seeking proposals from Spectrum Access System (SAS) administrators for short-term, limited geographic commercial deployments. They had indicated in the initial 3.5 GHz rulemaking that SAS admins will be "required to allow their systems to be tested and analyzed by FCC staff prior to making their systems available for a period of public testing prior to release." So, voilà, ICD.
The FCC's stated purpose of ICD is to complement controlled lab testing by providing a real-world environment to assess the aspects of a SAS that can't be effectively verified in the lab testing. The FCC wants to run each SAS though a comprehensive set of tests with actual CBRS devices (CBSDs) deployed in commercial settings.
It's important to note that ICD can't happen before a SAS has completed the lab testing and demonstrated to the FCC that it is able to operate in compliance with FCC rules. Once the lab testing is done, the FCC, NTIA and DoD will review the final test reports and the FCC will issue another Public Notice clearing each one to proceed to the ICD phase.
CLICK TO TWEET: A status update about CBRS from CommScope


ICD tests include everything from ensuring that CBSDs can communicate with and register on the SAS, seek and receive spectrum grants and suspend operations, among many other tests. However, no one will be able to deploy CBSDs in coastal areas as part of ICD since the Environmental Sensing Capability (ESC) systems haven't been approved or deployed yet.
ICD proposals were filed with the FCC in early September. In his address at the CBRS Alliance's Mobile World Congress Americas event, "Catch The OnGo Wave," Julie Knapp, chief of the FCC's Office of Engineering and Technology, said the FCC was pleased with all the filings, and he described them as "fulsome."
CommScope plans to work with our commercial partners (including AT&T) to run our SAS through a comprehensive set of tests to demonstrate it can perform in the real world as well as it does in the lab. These tests will demonstrate use cases from next-generation fixed wireless services to private LTE, in-building and neutral host networks.
We're very excited that CBRS is moving into the ICD phase! This represents a significant step forward in the development of the CBRS ecosystem. We're looking forward to kicking off our ICD trials with all our partners and clearing the way for CBRS.
In the meantime, for those of you in the Wireless Internet Service Providers Association (WISPA) community, come see our Comsearch spectrum management team in booth 408 at WISPAPALOOZA 2018 in Las Vegas. We will be hosting free microwave and FCC licensing training (click the link to register), and I'll be joining the CBRS panel on Monday, October 8th at 1:00 p.m.
If you want more background about wireless spectrum and CBRS, check out chapter eight of our recently updated "Understanding the RF Path" eBook. It's got a lot of great information for you.