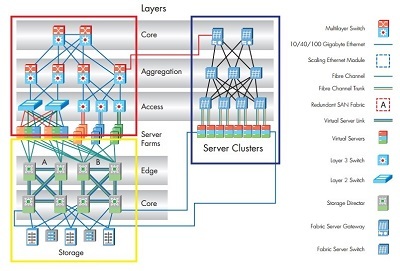 Technologies evolve so fast that it's sometimes hard for the standards to keep pace with the latest performance and bandwidth benchmarks. It's even harder for a data center manager to stay current with these fast-changing application standards.
CommScope plays a big role in pushing the limits of speed and capacity, so we thought it would only be fair to share the latest data center application standards in the new white paper, titled "Data Center Applications Standards Reference Guide for Networking and Storage."
It's a useful roadmap that puts all the relevant standards in one place – for copper and fiber networks running applications from Ethernet to Fiber Channel to InfiniBand. A lot of these standards have been updated recently so this white paper is a worthwhile read for anyone responsible for delivering speed and capacity across applications in the data center and across the network infrastructure.
These applications on the roadmap come with different requirements for the cabling infrastructure. The new EN 50600-2-4 telecommunications cabling standard delivers approaches to make your data center cabling infrastructure ready for the future.
Want to know more?
It's important to know the latest standards—and know what the future likely holds. I will be talking about these applications and other important topics in an upcoming webinar series. The first one focuses on applications specifically, but you may be interested in the other topics as well. If you'd like to know more, I encourage you to attend.
21 June: Ethernet and Fiber Channel application roadmap; DC Design standard EN 50600 requirements
28 June: High speed Migration Strategy: Architectures and Benefits
5 July: Data Centers Architectures for Virtualized Central Offices
Register for one or more webinars now! It's a smart time investment in your role, and in the future of your data center and network infrastructure.