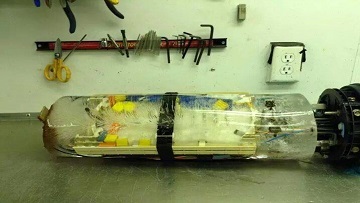 Winter is coming, and for some of us, it's already here! For workers in an outside plant environment, the change in seasons means a change in reasons why connectivity outages occur. There is not much that can be done about fending off strong winds from violent storms that cause aerial plants to become damaged; however, there is a lot that can be done to prevent ice formation that causes outages in a fiber optic splice closure.
If you own a boat or pool in regions where winter freezes occur, then you know that proper winterization will save you expensive repairs from ice damage and get you back in the water sooner come late spring.
Frozen water can create pressures upwards of around 30,000 PSI. Most fiber cables begin to crush at a pressure of around 6380 PSI. Ice can create almost five times the pressure needed to crush the cable.
What is the cost of a fiber outage in your network? In many cases with the data being pushed through fibers, it would be considerably more than a maintenance program to inspect, repair or replace closures that might allow water in that could then freeze come winter.
CLICK TO TWEET: When it comes to fiber closures, ice isn't your friend. CommScope's Chris Gemme explains how to protect the outside plant.
Some closures will have a valve for flash testing the closure. I would recommend pressurizing the closure to no more than 5 PSI, then simply using a spray bottle containing a mixture of soapy water, apply it to locations that seal the closure. A leak is detected when bubbles form. When finished testing, release the air pressure from the flash valve. This video shows the FOSC 450 Closure Sealing and Testing the Seal.
For closures without flash test valves, it is necessary to place the closure into a bucket of water to check for air bubbles escaping. This testing obviously should only be done when the weather is warm enough not to risk freezing.
If you have a closure that is damaged or not sealing properly, no matter the brand, then CommScope offers a FOSC 450 Rehabilitation Kit. It enables you to simply remove the old closure without undoing any of the splice trays and move them into a FOSC 450 D closure. This is a unique benefit of the FOSC 450 as it relies on a split gel block to seal the cable entry.
Comments from the technicians that have used FOSC 450 Rehabilitation Kit:
"Like the concept and will save a lot time instead of having to cut out every bad enclosure."
"Love that there was no scheduled maintenance window!"
"Easy to do."
"Gives us ability to do any closure in our network, regardless of manufacturer."
It's always best to prepare now for winter, even if you see the snow coming down already. What else are you experiencing in the field?