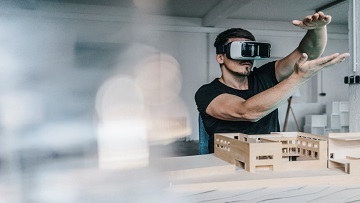 Sometimes I get a little envious of consumer technology. The news has been flooded with headlines on how fast Samsung's Galaxy S10 5G phone can download content on Verizon's 5G network. Journalists uncovered they could download 2-hour films or Netflix episodes in merely seconds. Granted the phone eats battery quickly but 5G is beginning to seem quite real.
CLICK TO TWEET: Olivier Alquier explains why if you build it (i.e., data centers & network infrastructure), then they will come (i.e., 5G, fiber & VR). Get a preview of Data Cloud Congress here.
Speaking of cool innovation, my family is obsessed with the show "Your home made perfect" which gives families the chance to redesign homes beyond their wildest imaginations, even before opening a can of paint or touching a single brick. Each episode features two architects being briefed by a couple and then presenting their design concept in virtual reality. Prospective clients wear audiovisual headsets while floors change, walls are taken away and extensions magically appear. They can even watch the sunlight pass through the room throughout the day before spending a single penny.
These topics make for good conversation with family and friends over dinner. Network infrastructure, on the other hand, can be a tougher sell.
What consumer trends mean for the network
While widespread deployment of 5G isn't happening for at least couple of years, this type of testing is just another reminder that data centers operators have a lot of work to do. Achieving 5G performance will be even more complex than LTE. More small cells, fiber and mobile edge computing will be a key part of eliminating network bottlenecks.
Virtual reality will require real-time video over an Internet communications link. If the connection is unreliable, bandwidth is too low, or latency is too high, the experience is degraded and may become useless. Higher-speed 5G networks will need to support peer-to-peer traffic with a greatly enhanced capability to support data generated at the end user device.
Designing smarter machines for a connected future
As we see more consumer technologies coming to market, there will be a relentless growth in data traffic and need to provide high-bandwidth, low-latency connections.
Although the attention tends to focus on handheld devices as the center of conversation, the actual center of computing activity is the hyperscale data center. These information factories which can be seen from space are designed to make optimum use of cooling, electrical power (kilowatts) and virtual machines.
These facilities could potentially redefine IT in the 21st century and multi-tenant data operators are borrowing some of their best practice methodologies around space, power and cooling. In this modern business environment, colocation is an extremely attractive option as small and mid-sized business have access to cloud and virtualized data without having to worry about becoming distracted from their core business.
CommScope is taking a holistic view in meeting demands, designing for emerging applications and future data centre requirements. We hope to continue the conversation with you during Datacloud Global Congress, 5-6 June.
Check out this video for an insight on the type of innovation we're offering to our data center customers.