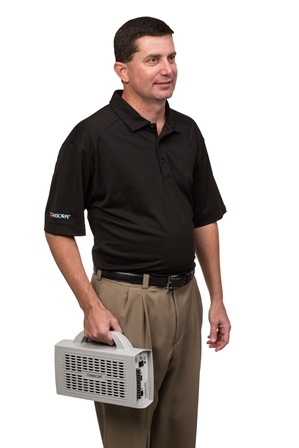 When I was a child, I used to love to take things apart, especially the vacuum cleaner. There was one drawback: putting it back together in proper working condition was never easy. My mother used to scold me, "If it's not broken, don't fix it." I am sure many of you have similar stories.
Let's take this concept and put it towards cell sites. If interference like passive intermodulation (PIM) is affecting key performance indicators, then the first course of action is to disassemble the site and test for a faulty component (at the cost of the operator and, ultimately, the customers' coverage and capacity).
Testing for PIM the old fashioned way is labor intensive, costly and dangerous. It often means disassembling a site to fix a problem, only to find that the antennas, jumpers and radios were all good.
CommScope was recently called to change out "faulty" antennas at a tier-1 operator site. Before we ripped the site apart and switched out our antennas, we requested to test for PIM the modern way.
Keeping all equipment in place, we inserted the Optical PIM Tester in line with the base station and performed "Smart Testing for Real PIM," as recently described in a blog by my colleague, Andrew Beck. We quickly realized the PIM source was external to the antenna system. We did not have to switch out good RF components or disrupt customer service for long to identify the problem.
As cell site architectures change, so should the procedures and processes around PIM testing. One tier-1 U.S. operator recently dropped PIM testing all together from the closeout package process. They realized that if they use PIM-graded components and the installers guarantee their workmanship, then PIM testing should be left to troubleshooting. More than likely, the interferer is because of an external source.
"Smart Testing for Real PIM" in the field is composed of two core techniques:
Limit your PIM testing to the actual bands and channels used by the base station. PIM products that fall outside the receive band do not degrade base station performance.
Test using transmit power levels indicative of the base station transmit power. Uplink PIM levels respond nonlinearly to the downlink transmit signal power. Testing at too high of a source power may create PIM issues that never occur in real operating conditions. Why test with 20W PIM signals if the maximum power the base station transmits is only 5W?
Andrew and I will be explaining "Smart Testing for Real PIM" in a free RCR Wireless webinar on June 21, 2016 at 2:00 p.m. EDT. Use the link to register.
You can also register for a free online training course Smart Testing for Real PIM with CommScope's Optical PIM Tester [WR9616] hosted by the CommScope Infrastructure Academy. Participants will learn how to use the Optical PIM Tester and tell if the interferer is likely because of an internal or external PIM source.
If you have any questions, leave me a comment, and I will gladly reply.