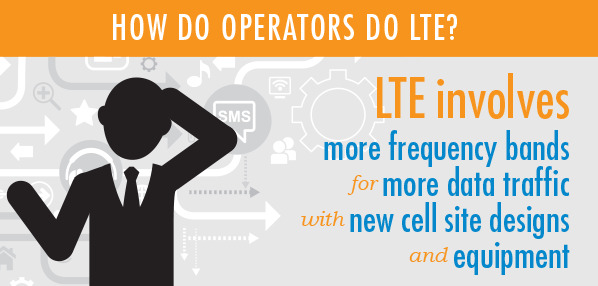 We consumers love LTE. And once we start using it, any lesser wireless network just won't suffice.
Want proof? Try this—once a smartphone user gains access to an LTE network, his or her data consumption jumps by nearly 170 percent compared to usage on a 3G connection! And consider this—when an LTE user travels to an area that only offers some form of 3G, the relative slowness and sluggishness of the network is quite noticeable, and highly frustrating.
CommScope has a new infographic about "Transitioning to LTE in Wireless Networks." It includes stats and information about what's involved in an LTE network upgrade. One area I want to discuss is why LTE adoption is occurring so quickly.
According to an HIS iSuppli report, LTE network subscribers will reach 1 billion in 2016, just three years after reaching 100 million in 2013. Comparatively, GSM networks hit 100 million in 1998 and took six years to reach one billion in 2004. The LTE ecosystem is already well-established, especially with many Asian and US markets having already deployed LTE services over the past few years.
The always referenced "data explosion," driven by video, is of course a reason for operators to move to LTE. Operators need the greater efficiency of LTE for both spectrum utilization and the core network. While the massive uptake of smartphones by subscribers is a driver in and of itself, innovations in content creation, such as what is available on sites such as YouTube, have also exponentially ramped up LTE demand. Wireless operators have to adapt to that aforementioned spike in data consumption that occurs when consumers gain access to LTE. (See the infographic)
For the operators, data rate, latency and capacity are the primary LTE quality goals. Latency, an often forgotten parameter, is as important as data rate to a subscriber's experience. It impacts loading web pages or watching videos which, in turn, alters the subscriber perception of network speeds. According to the Radware Mobile Web Stress report, a 500 millisecond connection speed delay resulted in up to a 26 percent increase in peak frustration levels of mobile users. User experience is critical for retention and increased network utilization.
These are some of the technical reasons why LTE networks have emerged quickly and continue to do so. What others causes do you see (cute kitty videos aside) that will precipitate the increasing need for LTE adoption? Check out the infographic for more information about what the move to LTE means for wireless networks.
Download the "Transitioning to LTE in Wireless Networks" infographic