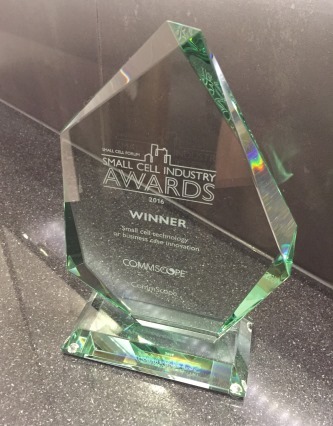 Innovation comes in many forms. A commonly held view associates innovation with developing new technology and generating intellectual property, and CommScope does both. We have nearly 10,000 patents and patent applications in numerous areas that protect our technological innovations.
However, innovation is so much more. Anything that makes our solutions easier to use, perform better or cost less is both beneficial to our customers and likely innovative. In this way, CommScope believes innovation comes from all areas of the company, wherever and whoever can solve fundamental customer problems.
CommScope is honored to have won awards and been recognized recently for our innovative spirit in developing technology and solving customer problems.
First, the Small Cell Forum just honored CommScope with its Small Cell Technology Innovation Award for Cell Virtualization with C-RAN Small Cells. OneCell is CommScope's distributed radio platform that fundamentally solves interference problems through centralized coordination while simultaneously giving operators the ability to re-use their spectrum many times over within the footprint of a single physical cell.
Small Cell Forum Vice President Andy Germano said that this was the most hotly contested award category because innovation is at the heart of disruptive technology. The judges said that their choice reflects the impact of a major step forward in small cell interference control and spectrum re-use. The judges concluded that "CommScope's OneCell has now demonstrated its performance gain in live networks and very crowded stadium applications, proving that its impact is real."
Second, CommScope won awards in the Lightwave Innovation Reviews for two products, PoE Extender and QRapid Panel, in the Fiber, Cable and Enclosures category. Selected by a panel of third-party judges, the Lightwave Innovation Reviews distinguish top products and solutions available within the optical networking industry.
CommScope's PoE Extender is designed to simply and easily function with the powered fiber cable system to extend the distance of PoE (Power over Ethernet) enabled devices up to 30 times greater than CAT solutions. Judges noted, "The system offers users significant cost advantages over the deployment of multiple systems that would be necessary to achieve the same power-and-fiber connections."
QRapid, meaning the Quareo-enabled Rapid Fiber panel, is an important innovation in the fiber optic panel market, offering service providers significant savings in installation time, labor costs and performance while providing end-to-end intelligence. Judges commented, "While CPUs for servers get all the media attention, the biggest problem for data centers is actually the 'dark' connectivity within them. The [No.] 1 cause of outages is miscabling…[It] solves a big DC [data center] problem."
Third, CommScope was recognized for demonstrating proactive management of a customer's complex technology deployment in Oman. The Oman Data Park won an Intelligent CIO Technology Excellence Award in the category of Intelligent Cabling Project of the Year. The Oman Data Park is a joint venture between Omantel, a leading telecom services provider in Oman, and 4Trust LLC, a leading data center company.
CommScope worked closely with the Oman Data Park and our partner 4Trust on the design, taking a holistic approach to managing the physical data center infrastructure. CommScope was able to meet our customer's need for a robust, comprehensive intelligent solution. Aside from supplying imVision automated infrastructure management and SYSTIMAX InstaPATCH 360 cabling solutions, we provided exceptional customer support from our regional technical support teams and partners to make this project a success.
"From the very early days, when we first sat down with Oman Data Park to understand their vision and requirements, to working on the infrastructure design followed by the implementation, training and handover, this project has been a case study in collaboration," said Feras Hani, solutions architect, CommScope.
At CommScope, our customers' problems are always on our mind, and our unique approach to solving them is why we innovate. Developing new solutions to support our customers is critical to both their businesses and ours. Our customers should expect more from CommScope—and we will deliver, innovating all the way.