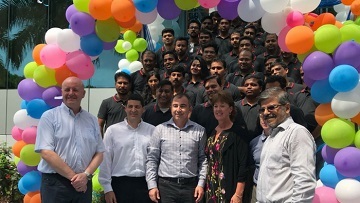 India is not the country it was 20 years ago. The nation hosting the world's second-largest population of 1.2 billion people was previously known for dated infrastructure, unreliable power supply and poor Internet connectivity. Twenty years ago, 'Digital India' was merely a dream and CommScope had only just opened its first manufacturing facility in Goa – with just 10 employees.
Back in 1999, CommScope manufactured cables and accessories subsequently adding antennas to its production. As India continued to invest in its network infrastructure, our team seemed to evolve alongside it. We moved from supplying customers with cable connectors and jackets to manufacturing 5G ready base station antennas and fibre optic technology.
CLICK TO TWEET: CommScope's Antonio do Rego explains the company's journey in innovation in India.
A focus on innovation
As I look back, I would attribute the transformation and growth of our Goa manufacturing facility to our employees, some of whom include those early pioneers. Colleagues have candidly told me they love uncovering the hidden world behind making a single phone call. They have insight into the design, wires, hardware and technologies which enable what we take for granted every day.
We stress that innovation doesn't necessarily mean creating brand new products daily. It might be an employee improving an internal process which makes life easier for customers. We're constantly looking for small ways to improve in an ever-evolving marketplace.
But how did innovation begin in the company? Has passion for progress and ingenuity always been part of the culture? Or did CommScope jump on the innovation bandwagon to stay competitive?
During the inauguration of our first Innovation Centre in Goa, we asked our Chief Operating Officer, Morgan Kurk, to provide an answer. Here's what he says in a short video clip.
Innovation remains the centre of everything we do at CommScope. The Innovation Centre is the company's commitment to employees to encourage fresh ideas and new ways of doing business. It's our commitment to customers that CommScope continuously focuses on innovation to solve their network challenges.