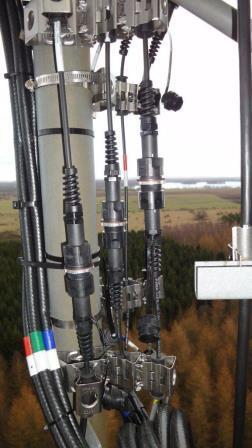 LTE network performance
depends not only on having the right infrastructure in the right places, but also having it installed and tested correctly. The most common source of the performance-degrading interference called
passive intermodulation (PIM)
is
poor installation
. That's what our
Site Solutions and Services
team has discovered over the years while performing audits of existing LTE sites.
For LTE to work optimally, the
noise floor
must be kept low and PIM is a prime contributor to the noise floor. Providing a
quality PIM installation
is essential for an LTE network to perform at its best and for operators to maximize use of their valuable spectrum.
Installation errors are often related to improper connections that create PIM-generating problems. LTE brought about more deployments of fiber optic cables instead of the coaxial cables. Installers more comfortable installing coax may not be as familiar with fiber-optic installation techniques. Ensuring all installers are trained on fiber optic best practices, especially for limiting PIM, is critical.
Cell site construction involves a great number of partners and stages of development—even more so for LTE deployments that have exacting specifications. It is important that all partners in the process are trained on proper installation techniques. This is why CommScope's Site Solutions and Services team trains, qualifies and certifies both internal personnel and sub-contractors on the entire RF path. Doing so ensures the highest quality installation and optimization of macro, metro and small cell LTE sites.
Quality installations have always been important in wireless, but are even more so because of LTE network sensitivity. For more information about outdoor site construction best practices—including equipment selection, environmental practices and network installation—read chapter seven in the LTE Best Practices ebook. This chapter summarizes what CommScope's Site Solutions team has learned over its years of LTE deployments. You can download the eBook as an app on tablets and smartphones, and it is free.
Have any questions about the best way to install LTE at a cell site? Leave me a comment, and I'll be happy to reply.