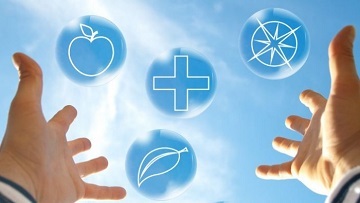 Running a global business is about more than financial results. Customers, investors, employees and government agencies are all interested in the environmental and social impacts of CommScope's activities.
CommScope is committed to the highest standards of business integrity and environmental sustainability. We believe that Corporate Responsibility & Sustainability (CR&S) means making decisions that have a positive impact on our people, our planet and our bottom line. This approach is in line with the Triple Bottom Line framework, where people, planet, and profit metrics are all key indicators of our success as a company.
Each year, we produce a Sustainability Report that charts our progress in these areas. We develop this report using GRI Standards, a global framework for sustainability reporting. The GRI Standards represent global best practices for reporting publicly on a range of economic, environmental and social topics. In addition, our efforts support the UN's Sustainable Development Goals (SDGs) and the 2030 Agenda for Sustainable Development.
CLICK TO TWEET: People, the planet, and profit metrics are all key indicators of CommScope's success as a company. Check out Kris Kozamchak's blog.
In our 2017 Sustainability Report, we detail our overall CR&S philosophy and present specific goals. I recently interviewed Zuzi Pospechova, director of Corporate Responsibility, to find out some of the details about the new report.
Zuzi already covered our GHG update and during the coming year, we will highlight additional aspects of our Sustainability Report and corporate programs that further our sustainability goals. Watch this space as we report on our programs and achievements.
Additional resources: