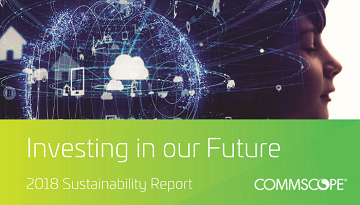 We've just released the 2018 Sustainability Report, and I wanted to share the highlights and invite you to read the entire report.
CLICK TO TWEET: While we build sustainable networks that make our customers more agile, we are also preserving the natural ecosystems from which we source our raw materials. Learn more by reading Zuzi Pospechova's blog containing CommScope's 2018 Corporate Responsibility Report.
At CommScope, we believe that corporate responsibility and sustainability means making decisions that have a positive impact on our people, planet and bottom line. By utilizing innovative technology, intelligent engineering and energy-efficient designs, CommScope is building sustainable networks that make our customers more agile while also preserving the natural ecosystems from which we source our raw materials.
The biggest news over the past year was CommScope's acquisition of ARRIS International plc (NASDAQ: ARRS), a global leader in entertainment and communications solutions. ARRIS is also issuing its 2018 Corporate Responsibility Report, which will be introduced on the ARRIS Everywhere blog this week.
Beyond the ARRIS acquisition, CommScope reported a host of other achievements during 2018. Here are the highlights:
For the 3rd consecutive year, CommScope achieved a Gold level Corporate Social Responsibility (CSR) rating from EcoVadis, a global leader in monitoring, benchmarking and enabling sustainability in global supply chains. CommScope was included among the top 5% performers evaluated by EcoVadis.
We transitioned our environmental certification from the ISO14001:2004 standard to the ISO14001:2015 standard and expanded the certification scope—covering 61% of manufacturing facilities in 2018. View our ISO14001 certificate.
We also initiated the transition of our safety certification from the OHSAS18001:2007 standard to the ISO45001:2018 standard and expanded the scope to cover 86% of manufacturing facilities. View our ISO45001 certificate.
We diverted 86% of non-hazardous waste generated in our manufacturing facilities away from landfills by reusing, recycling and converting waste to energy.
We continued our focus on corporate priorities identified through our Employee Engagement Survey— enhancing career development and growth opportunities for employees, increasing speed of our business processes and decisions, and better serving our customers by increasing agility and reducing complexity. Including a roll out of uLEAD, an online self-service learning program for employees interested in developing their business and leadership skills.
We also updated Global LearnCenter (GLC) for employee development and introduced a new approach to Ethics and Compliance Training, using a consolidated training package targeting over 6,500 knowledge workers. 100% of the targeted group completed this annual training.
We expanded our wellbeing program and introduced Guidance Resources, the company's first global wellness resource program available to all employees and their families worldwide.
We began a multi-year, global pay fairness assessment to objectively measure the results of our pay practices.
We conducted 306 Sustainability Assessments in our Supply Chain. These include review of compliance and evaluation of established labor and ethics practices, environmental practices, health and safety practices and business continuity.
The 2018 Sustainability Report details the environmental, social, and corporate ethics and governance initiatives and progress we made during the past year. Read the report and watch this space for more details about corporate responsibility as we move through 2019.
Additional resources: