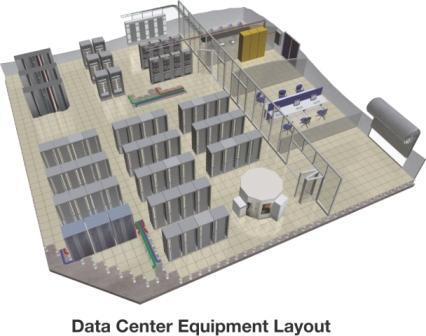 The heartbeat of today's organization is in the data center. Employees, partners, suppliers and customers rely on data center functions and services to effectively create, collaborate and interact. Over the last decade, the proliferation of the Internet and cloud-based technologies has made the data center more strategic than ever - improving productivity, enhancing business processes and accelerating change.
Data center managers face several challenges in maintaining critical operations while expediting the migration to a more efficient converged platform of resources. The ultimate goal is an agile infrastructure that can incorporate ongoing improvements in storage and application technologies while empowering the enterprise to dynamically support changing business processes.
With service reliability being a trademark of these installations, data centers are outfitted with high quality cabling solutions that allow for:
Operational reliability
Quick changes, including additions and rapid expansion
Enhanced management, monitoring and service provisioning
High density
High bandwidth
Flexibility and modularity
Secure access
The good news is that global infrastructure standards organizations recognize the daunting tasks data center personnel face and guidelines are available with recommendations for cabling designs:
In the United States, the infrastructure standard for data centers is the TIA-942: Telecommunications Infrastructure Standard for Data Centers
In Europe, the infrastructure standard is EN 50173-5: Information Technology–Generic Cabling Systems, Part 5: Data Centers
Internationally, the data center infrastructure standard is IS 24764: Information Technology–Generic Cabling for Data Center Premises
Overall, the bulk of the cabling is comprised of interconnections between the individual servers, mainframes, tape, disk storage and the aggregation switches—from these switches to the backbone switches and out to the access provider networks. Data center environments lend themselves to fiber optic cabling as the main communications medium of choice for large parts of the data center, including the storage area network (SAN), mainframe, switch and tape/disk drive connectivity. Copper cabling is the common local equipment connection such as in the network attached storage (NAS) areas of the data center. From an architecture perspective, the right cabling meets the needs of the particular organization's network in the most efficient way.
To help you learn about the cabling choices, the CommScope Infrastructure Academy has three online courses (SP8800, SP8810 and SP8820) that form a CommScope certification path for anyone interested in a cabling selection for the data center, design options and possible solutions from CommScope.
We welcome ideas to develop the education further.