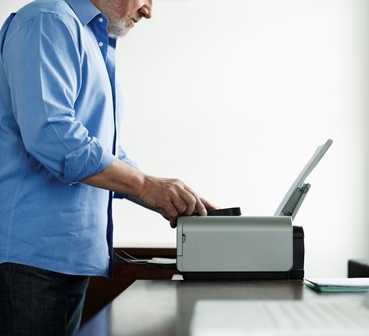 The term
"paperless office"
was commonly used in the late 1960s and early 70s to describe the office of the future, where paper would be eliminated. In the 1990s, a growing trend towards digital documents gave rise to the perception that we were finally witnessing the reality of the paperless office. Today we can call up digital documents from the cloud in seconds, virtually anywhere, on a variety of devices. However, several decades later, we still like to have a printer around. We often rely on paper when reviewing or signing important documentation. In fact, as I write this on a plane, on my tablet, I am carrying printouts of my itinerary, my online visa, the hotel confirmation and various other documents for easy reading and markup.
CLICK TO TWEET: Is the wireless office the new paperless office?
I make this point because there is talk about the "wireless office" being the new office of the future, where wires will be eliminated. Planning for reliable wireless coverage and capacity is a must, since the use of wireless continues to increase. But the wireless office is also taking its time to arrive. Many IT departments are evaluating options to implement wireless-only networks, but there is evidence that the shift to wireless as the primary network may be best implemented gradually, adapting to user requirements and building environment. Consider the following real-world examples:
A medium-size software company deployed a high density WiFi network rather than upgrading their wired network, and switched 100 users to an all-wireless environment. After a few months, due to slow performance at peak hours, most users went back to the wired network, with the WiFi network as a secondary overlay.
A global financial firm conducted a large pilot of all-wireless connectivity. While the initial cost was lower, their pilot revealed that operating costs would be substantially higher. They also found that wired LAN ports were far more efficient at downloading large software updates, which took significantly longer over WiFi, and slowed down the shared wireless network.
After a small successful pilot, a large multi-floor building for an insurance firm was designed with a high-density WiFi network as the primary network, with no wiring to the desks. After moving in, it was discovered that a nearby radar interfered with the WiFi signals, and thousands of wires to the desks had to be installed after hours, with a cost significantly higher than if they had been pre-installed.
Wireless connectivity has become an essential requirement in modern offices. But even when wireless is deployed as the primary network, this doesn't really mean no wires. In fact, an opposite trend is apparent, with additional wiring required for data and power connectivity to an increasing number of networked devices (wireless access points, cameras, access control systems, sensors and others). And these devices have become critical, with bandwidth exceeding a gigabit per second. This is prompting corporate building infrastructure designers to adopt an integrated approach to designing, planning and implementing infrastructure. They'll use a Universal Connectivity Grid to support wired and wireless connectivity with maximum flexibility and lower operational costs.
As it turns out, the paperless office is not quite paperless, and the wireless office is not quite wireless. To support an increasingly wireless work environment and the growing proliferation of connected devices, it may well be that the wireless office will have even more wires.