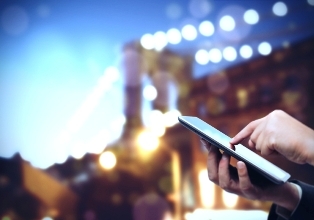 As a kid, my dad and I would visit the Metrodome to watch the Minnesota Vikings play. The stadium didn't offer much in the way of a fan experience aside from being blown out of the door at the exit. My dad would watch the games with ear buds, listening to the color commentary on his transistor radio. That was about 30 years ago -- the first image I have of a multi-media experience.
Today, expectations are on a whole new level at a stadium or sporting event. The best stadiums deliver a customized fan experience and differentiate themselves, their teams and their other clientele based on it. At the Daytona Speedway, you can listen to the driver/crew communications at an auto race. You can vote for your favorite All-Stars through a team app at Citi Field. You can access the odds, the online store, player profiles and replays not shown on the big screen at Bank of America Stadium. You want to order drinks delivered to your seat or know how long the wait is in the line for your favorite stadium snack? That's got to be available at one of these or other venues, too.
Now imagine all the eyes of the world on ONE stadium, or one large sporting event. As the Summer Games approach, expectations on communications networks have skyrocketed even from four years ago. Communications systems are extending their fan experiences to millions of connected consumers not only watching programs on television but also through social media. Thousands of media outlets expect their photos and film instantly shared and digested with their followers. Fans also expect to share their experiences with their own networks. Last year, a study by GlobalWebIndex reported that fans will watch as many as four hours of coverage online via laptop, PC or tablet. And, more than half of fans report using their mobile phones to watch via a second screen.
How can stadiums handle this casino-like hospitality? They're now designed like the smartest of cities. Stadiums are built like a microcosm of a community - with solid transportation infrastructure, amenities, sustainable energy systems like solar and water reclamation, and data security and communications. That doesn't even include all of the intelligence to manage all of the back-of-house functions to accommodate and optimize the next digital, data-driven needs of fans around the globe. We may be paying a lot more to be a part of that exclusive, on-site experience, but our demands match it. Generally the experience is a win-win for everyone.