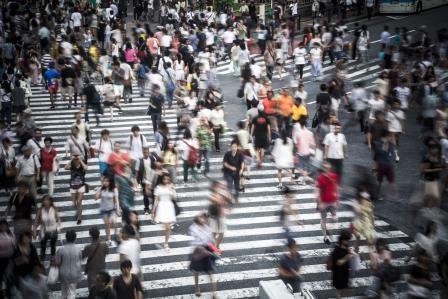 Back in 2005, the official development of LTE started with Japan's NTT DoCoMo proposing a next-generation wireless standard. Ten years later,
LTE networks are already mature in Japan
, with nationwide LTE coverage completed in 2014. In this advanced market, we've seen
advanced technologies
like LTE-Advanced, carrier aggregation and VoLTE going live in the last year. Yet even in mature networks,
operators still face challenges
.
Ensuring capacity and throughput in dense urban areas
Mention Japan and you might imagine pristine mountains or the neon lights and incredible human traffic at the main crossing in Shibuya in downtown Tokyo. These two images reflect the landscape across Japan—a population of 126 million people living in 1/25th of the land area of the US with 70 percent of the total land being sparsely populated mountain areas.
Even before the growth of smartphones and LTE, Japanese subscribers were using mobile data services like i-mode for more than a decade. This is a market that is known to be data ferocious.
The scale of the capacity required is simply mind-boggling and data traffic is highly dynamic. Imagine catering the capacity for Japan's famous rush hour trains, traveling at speeds of up to 300 km per hour, running at 4-minute intervals and packed with up to 1,300 people, many using their mobile phones at the same time.
What this means is that the capacity demand in the incredibly dense cities is unlike almost anywhere else in the world.
Antenna options to solve the capacity headache
Existing macro cell sites do not necessarily provide sufficient capacity for the super high traffic locations and they may not even be cost efficient. This drives operators towards deploying small cells.
With small cells, operators need to look out for interference that can impact sensitive LTE/LTE-A networks negatively. One way to address the interference issue is to ensure they use high-performance antennas with well-defined patterns that have a good roll off at the edge of the patterns. At CommScope, we refer to this technique as sector sculpting. This is even more important if the same frequencies are being reused for macro and small cell sites.
However, the deployment of small cells at street level is not without its challenges. Sites can be difficult to secure for a number of reasons including local regulations, aesthetics and objection from building owners.
Some operators have found that the answer sometimes lies not in going small, but in going big. Large multi-beam antennas with sharp roll off, like CommScope's five-beam antenna, can provide high capacity in specific areas while limiting interference. These powerful antennas can be installed a distance away and still produce a narrow, well-defined beam strictly to the areas requiring the extra capacity. If you don't believe me, check out leading operator KDDI's success with providing coverage from a distance of roughly 35 kilometers. This is a welcome option especially when faced with site acquisition challenges. This antenna has been deployed successfully in a number of cities, solving operators' challenges for super dense urban traffic.
With Tokyo's metropolitan government expecting the 2020 Olympics to bring in 8.5 million tourists and the government aiming to exceed 20 million tourist arrivals per annum by the same year, the race is on to effectively address capacity challenges in dense urban areas today, even as the industry starts to look towards next generation 5G technologies.
Any questions? Leave me a comment, and I will reply.