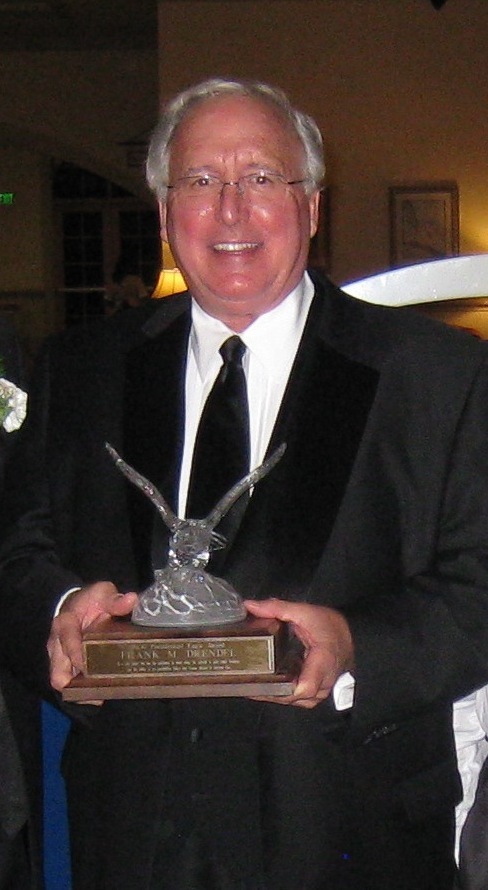 Cabling industry awards are typically presented only to individual contributors who personally influence an association or cause in some way. More than just an individual contributor, Frank Drendel, chairman and founder of CommScope, has received a special award from BICSI for his remarkable investment in others, particularly employees.
BICSI is a professional association supporting the information technology systems (ITS) industry. Representatives from all parts of the cabling industry gathered in Orlando, Fla. on February 5 at the 2014 Winter BICSI Conference and Exhibition to network, hear the latest on trending technologies and recognize those who have made a considerable impact in the industry. One of the people recognized was Frank, who received the Presidential Eagle Award for exhibiting leadership, sacrifice and faith in the BICSI association and dedication to its cause over a period of time.
"Because of the support of his companies, hundreds of individuals have contributed to the ITS, ICT [Information and Communications Technology] and cable industries," said BICSI President Jerry Bowman, who presented the award to Frank. "The output of those employees is almost immeasurable and many feel neither our industry nor the cable industry would be where they are today without the support of Frank Drendel. He truly embodies the spirit of the thousands of managers, executives and business owners who give back by supporting their employees."
Bowman went on to say that this is the first time that BICSI has ever given an award to a chairman of the board, CEO or president of a company. He not only employs industry professionals but also pays for their training and credentials and then continues to support them as they give back as committee members and volunteer leaders in associations like BICSI.
Recipients of the Presidential Eagle Award have a history of starting, acquiring and leading great companies in the cabling industry. Frank is the founder and current chairman of the board of CommScope, and served as its chief executive officer from the company's start in 1976 until 2011. He is a director for the National Cable and Telecommunications Association (NCTA), Society of Cable Television Engineers' Executive Council, and Tyco International's board of directors. He has served on the board of directors for C-SPAN, Sprint, Nextel, Cable Center and General Instrument. He is an active member of several NCTA committees.
In addition to these significant accomplishments, Drendel has received numerous prestigious honors for his contributions to the industry. Frank has been a recipient of various NCTA awards including the Challenger Award, Associates Award and the President's Award. He was inducted into the Cable Center Hall of Fame, which is the cable television industry's highest honor, in 2002. He also received an Emmy Award for Outstanding Achievement in Engineering Development in 1985 for his contribution to anti-pirating satellite TV encryption and scrambling technology. In 1999, he received The Order of the Long Leaf Pine, the highest civilian award given by the State of North Carolina, and he recently received the 2013 Outstanding Achievement Award from the North Carolina Technology Association. He has been a mentor and leader in the cable television and telecommunications industry during his entire career.
On behalf of a grateful industry and proud company, I congratulate Frank Drendel in receiving this latest award. He deserves this award because of his visionary leadership and also because of his faith, trust and support for every single employee in his company.
(L-R) BICSI President Jerry Bowman, CommScope Chairman Frank Drendel, BICSI President-Elect Michael Collins and BICSI Executive Director & CEO John D. Clark at the BICSI awards banquet on Feb. 5