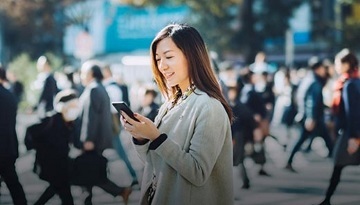 As a foreigner visiting China for business from time to time, I am always fascinated by how Tencent's WeChat has created such an impact in only seven years. For most of us living outside of China, the use of WeChat may be limited to group chats and photo sharing with friends and colleagues. But to people living in China, WeChat is probably listed as a necessity to human survival, up there with air, food, water and shelter. Watch this video and you will understand the convenience the app brings to their daily lives.
CLICK TO TWEET: Online shopping require a data center that can migrate to higher speeds and also deliver tomorrow's bandwidth demands.
Or should I say super app? WeChat's users have convenience at their fingertips, managing almost anything from booking taxis, paying for meals, sorting petcare or paying for bills.
Reinventing shopping on WeChat
Shopping on WeChat is not a new phenomenon but retailers are constantly experimenting on how to further exploit the e-commerce platform to tap into the 1 billion monthly active users.
One example comes from 'Mini programs' which are ultimately lightweight apps supporting services within WeChat. With mini programs gaining traction, the digital world is witnessing a disruption in online shopping. Shops can offer group-buying deals facilitated through group conversations, and customers can purchase goods directly without having to leave the platform!
More than a million mini programs have been launched for WeChat so far, and 500 million users interact with mini programs at least once a month.
The marriage between e-commerce and social media
WeChat isn't the only social media platform planning new moves into e-commerce. Instagram is building a standalone app for shopping. There are more than 25 million businesses that have Instagram accounts, and 2 million of them are advertisers. Four in five Instagram users follow at least one business.
We are all familiar with the accepted truth that booming online sales (especially during Black Friday in the United States or Singles Day in China) have caused many brick-and-mortar stores around the world to close. It will be interesting to see how social shopping will impact e-commerce…and the networks that power them 24 hours a day, seven days per week.
With social media, a lot happens in just one internet minute. In a mere 60 seconds globally, 266,000 hours are watched on Netflix; 2.4 million snaps are created; and 1.1 million swipes go left or right on Tinder. In China alone, about 400,000 people log in to WeChat every minute! The internet is buzzing with social shoppers and now, more than ever, milliseconds of latency can have a negative impact on sales.
Reinventing your data center networks
Online retailers have an appetite for unlimited network capacity given 60 percent of Gen Z, 13-22 year olds, will not use an app or website if it's too slow to load and two thirds are interested in purchasing via social media directly, according to, "Generation Z: The study of tech intimates."
As business-critical applications and information evolve, is your data center ready to deliver the required bandwidth and speeds of the future?
Join us at Data Centre World 2018 in Marina Bay Sands Singapore on October 10 as CommScope demonstrates how your data center can migrate to higher speeds to deliver tomorrow's bandwidth demands.
Before that, tune in to our Facebook Live session on October 4 at 2:30 pm (Singapore time) as we talk about how online shopping trends are transforming networks.