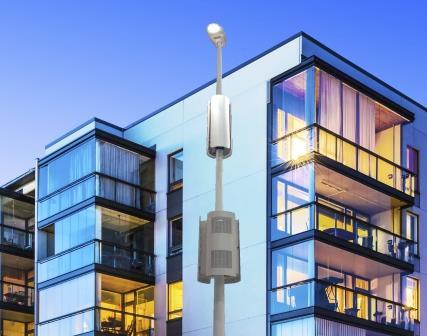 After several years of hearing "they're coming," outdoor small cells are now being deployed. Bigger variants are sometimes referred to as "mini macros" and even larger, concealed macro cells are entering the fray—all in an effort to satisfy mobile users' insatiable appetite for bandwidth. Deploying any sized site in suburban or urban areas has its set of challenges, however. The ability to get permits is high on that list.
Effective equipment concealment offers the best chance of getting a site permitted as smoothly as possible. But what does that entail? Before getting my thoughts, test your knowledge with this interactive Metro Cell Best Practice Guide quiz. In the process, you'll get tips for a successful densification strategy.
How to Conceal RF Equipment
The number of design possibilities in RF site design varies greatly. Part of this is due to the large mix of radio equipment, antenna characteristics and site specifics as dictated by the number of frequency bands, power level and the required capacity. There is no "one size fits all," which results in significant complexity in concealing equipment and getting permits.
One challenge to making site aesthetics amenable to permitting is that the dimensions and look of small cell units varies greatly. Additionally, the appearance of small cell equipment changes over time with advances in technology. If you multiply this problem by the number of radio providers and technologies that operators can have in their network in any given time, you get a sense of the challenge of trying to unify look-and-feel of a site.
By mounting outdoor small cell radios inside a concealed unit containing all the site equipment (including backhaul and ancillary RF components), sites are better able to fit in the overall aesthetic environment while achieving a sort of uniformity over time regardless of technology changes. Moreover, sites can be made to support multiple radio technologies and/or operators simultaneously, including Wi-Fi, LTE and 3G, while meeting regulatory compliance in terms of space consumed.
Another small cell challenge exists with RF delivery and the antennas themselves. Radio waves thrive on high gain antennas, which are longer. Longer antennas enable better control over the transmitted signal, which greatly improves network performance and reduces site count. The trick with small cells is to pack the superior performance of longer antennas into a smaller size. Broadband or dual band antennas with electrical beam tilting will optimize cell edge performance and enable better throughput at a lower cost because fewer sites are needed.
The importance of successful site permitting cannot be understated for small cells, with aesthetics playing a critical role. Unfortunately various technological and physical limits confound the industry's path toward that goal. Operators, equipment vendors and municipalities must work together to ensure mobile broadband access continues to thrive, expanding economic development. The look and design of modern small cell equipment is intrinsic to this goal.