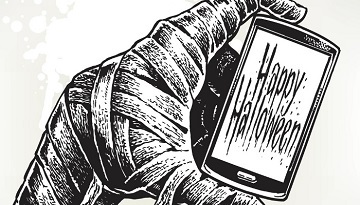 I recently attended the 5G Americas Analyst Forum as a representative of CommScope. In the gift bag to attendees was an i-Tracker, a device using Bluetooth 4.0 low-power consumption to track items using a mobile device. It mentioned in the instructions that you can "outfit your children with the i-Tracker" and I thought, "Great, I can put this on my kids when we go trick-or-treating for Halloween!"
CLICK TO TWEET: This Halloween, learn why connectivity has become so important to you and your family by reading Kris Kozamchak's blog.
I was chatting with a colleague about my idea and realized that technology use at Halloween is a big thing, especially if you have kids. One article I read listed out several tech items for Halloween including fitness trackers, Bluetooth speakers, security cameras and video doorbells.
Another article focused on just smartphone apps including ones to track or message your kids and a flashlight app.
I realized a few things after talking to a few people and reading some articles.
I am not alone in thinking about safety on Halloween.
If I want to be the "best house on the block," I need to use technology, not just give out candy.
My smartphone is critical to the success of this holiday.
I can't pull this off without a great internet connection and sufficient bandwidth.
Why is the connection important? If I don't have a great connection, I can't use my video-enabled doorbell to play scary music or welcome them in a spooky voice. I won't be able to "see" every time the door is opened and closed through my alarm system app. I won't have the ability to remotely raise and lower the garage door to surprise/scare trick-or-treaters.
It's not like the "old days" where a few strategically-placed spider webs and ghosts hanging from trees was good enough. Today, we need flying ghosts and spirits in the windows to make an impact.
Fortunately, the company I work for supplies wired and wireless solutions to service providers, so we can all take advantage of technology to make this Halloween as success.
With a connection to make it all happen, the only thing that will frighten me is my kid's sugar high at the end of the night.