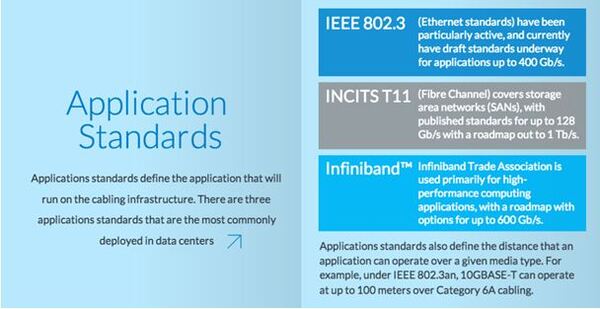 It's been challenging to keep up with the latest standards development for data center applications.
Several colleagues of mine participate in the industry standards for Ethernet and cabling, and they tell me that the standards meeting agendas are so busy that they nearly have to run from one meeting to the next to keep up with all of the activities.
There was a time when Ethernet standards were very predictable; you could nearly set your calendar to every five years or so, when a new application speed would come out that was 10 times faster than the previous one. Today, there are no less than six new application speeds in development, which is amazing considering only six application speeds have been developed to date in the 30+ years that the IEEE 802.3 standards have been published.
Why this surge of activity? Of all types of networks there is perhaps no other segment that has had to keep pace with the rapid changes in the communications industry as much as the data center. With social media, video and the Internet of Things continuing to drive bandwidth, data center infrastructure needs to plan for and be ready toaccommodate increasingly higher speeds.
And it's not only higher speeds that the evolving data center standards address; it's also , in the case of 25G and 50G, the development of intermediate speeds that provide more cost-effective solutions for a particular application, rather than jumping to the next higher speed.
And with all of the applications developments in the Ethernet and Fibre Channel committees, there are also cabling standards developed to provide guidance on how best to design for and operate these new applications over structured cabling.
To keep track of these evolving standards, along with new technologies, design architectures and more that are impacting data centers, you can see our published quarterly update, or view CommScope's eBook, The Connected and Efficient Data Center. Learn tips and insight to help demystify the technology and untangle the complexities, with insights from the significant number of CommScope employees that are standards delegates in the relevant IEEE, ISO/IEC, TIA, ANSI/T11 and CENELEC committees that pertain to structured cabling. I encourage you to also tell us what hurdles or success stories you're running into with your data center.