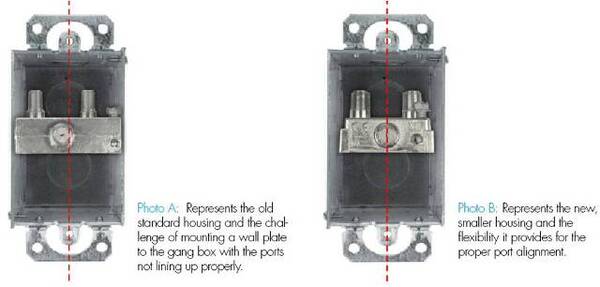 The pressure on multiple system operators (MSOs) has never been greater because subscriber expectations have never been higher. Whether streaming digital video, high-speed broadband internet, or Voice over Internet Protocol (VoIP) telephony, the expectation is 100 percent uptime – 24/7 – wherever and whenever. It's no surprise that service reliability is one of the biggest variables when it comes to increasing average revenue per user (ARPU) and decreasing churn.
At the headend, MSOs have invested heavily in upgrades to increase redundancy and eliminate service interruptions; however, unless the same criteria and careful considerations are used in selecting the best home connectivity components, the investment will not pay off. This means that even the least expensive components, like splitters and couplers, must be chosen based on their reliability, RF performance and ease of use, and not just their price.
At CommScope, we take a long-term view to every solution we engineer. As a solutions-based provider of RF components, we understand the critical role every component in the RF path plays in reducing operating expense (OpEx) and meeting subscriber expectations. Therefore, we engineer our HomeConnect solutions to maintain consistent, superior electrical performance over their lifespan. Even the smallest components like a splitter or coupler can make a difference in a subscriber's quality of service.
Our various HomeConnect wall mount directional couplers (SVDCWxxG) and two-way wall mount splitters (SV2WG),complement our complete passive product line as well as our coaxial cable products. They are engineered to SCTE standards and are backed by a 30-year history of reliability. Additional features and benefits of the wall mount versions include:
A bonding block that is integrated into the body of the housing. This key modification allows the wall mount line to fit into in-wall mounted gang boxes for easier installation while maintaining SCTE compliance with the internalized bonding block
The elimination of bending cable to fit standard splitters into small wall-plate junction boxes
Compact size
An innovative four-sided center conductor contact that provides greater center conductor contact, outstanding spring retention and electrical performance
Flat end "F" ports for proper ground plane match
120 dB radio frequency interference (RFI) protection
Solder-sealed proprietary backplate
When installing the old standard housing into gang boxes, installers would sometimes discover that the port of the passive device is misaligned with the mounting holes. This posed a challenge for the installer because the wall plates are off-centered and do not fit properly. By internalizing the ground lug and reducing the product footprint, the device now allows for proper alignment within all gang boxes. This, in turn, allows for the ease of installation without having to manipulate the mounting holes and/or wall plates.
We are committed to providing quality products in the most efficient manner, even if they are as simple as splitters and couplers. Having the right tools for the install will not only make it easier for the technicians, but will also help provide a better more reliable experience for your customers.