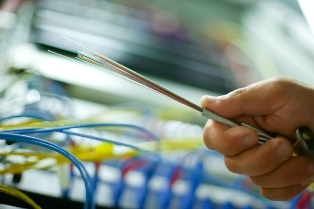 For a moment, let's consider three important characteristics that make a successful service provider in today's competitive global market:
Service providers continue to build out high-bandwidth networks around the world. These networks use a great deal of fiber connectivity—the medium that meets both their bandwidth and cost requirements.
Deploying fiber is not enough. A successful fiber network also requires a well built infrastructure based on a strong fiber cable and connectivity management system. Management of the fiber connectivity has a direct impact on network reliability, performance and cost. It also affects network maintenance and operations, as well as the ability to reconfigure and expand the network, restore service and implement new services quickly.
A strong fiber connectivity system provides bend radius protection, cable routing paths, cable accessibility and physical protection of the fiber network. If these concepts are executed correctly, the network can deliver its full competitive advantages.
All four aspects directly affect the network's reliability, functionality, and operational cost. Five new courses were launched by the CommScope Infrastructure Academy covering different fiber connectivity options and how they can be deployed and installed.

When you "think fiber", you need to start thinking about your fiber knowledge. That's where the CommScope Infrastructure Academy can help.