In our wireless business, we live and breathe RF. We're proud of our heritage in radio frequency, and how we've forged closed relationships with customers around the world through the RF expertise and support we've provided over the years.
So proud that CommScope launched its first ever e-book called Understanding the RF Path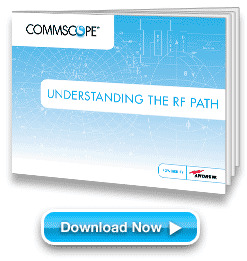 recently. Available in digital format and as an app, Understanding the RF Path offers a wealth of knowledge about wireless networks to anyone at no-cost. The e-book includes high-level overviews of RF communications and cell site design along with engineering-level discussions of active electronic components, radio transmission, reliability theories and other topics.
On our company blog, we are going to offer even more.
A new blog series called "Meet the RF Experts" will be coming out in installments soon. This series will consist of posts that expand on some of the content in Understanding the RF Path. A number of the
e-book's authors—experts from our applications engineering, electrical engineering, product development, construction services, technical marketing, sales and operations teams—will draft the blog posts. Other RF experts from inside CommScope will likely contribute as well.
We hope the Meet the RF Experts blog series serves as a nice supplement to the content in the e-book. Another way you can access the content is the online class that parallels Understanding the RF Path. It is a self-paced, six-hour program offered at nominal cost through the CommScope Infrastructure Academy that guides students through the material available in the e-book.
The goal of our whole Understanding the RF Path effort is to spread knowledge and increase best practices at the cell site. I invite you to join in the conversation with your own observations and insights about the challenges of building out RF in today's world.
My hope is that we can use this blog space to educate each other.