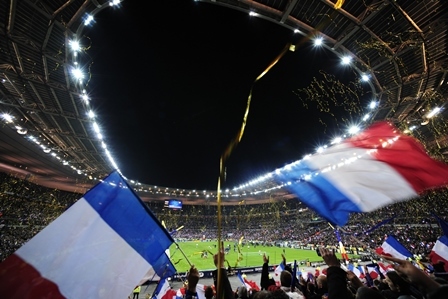 Euro 2016, which wraps up on Sunday in Paris, is likely to be the most 'connected' football tournament in the sport's history.
The current generation of sports fans is heavily reliant on their mobile smartphones and tablets for the latest up-to-the minute news, updates and replays. Supporters expect to be able to use their phones to interact with their teams; filming and sharing goals, viewing high-definition video instant replays, or just calling and messaging friends to discuss results.
With almost 8 billion mobile devices recorded around the world last year, and with mobile data traffic in 2014 being nearly 30 times the size of the internet, it's critical for stadium infrastructure to be prepared for a deluge of mobile data flooding the network. In the Stade de France, for example, which can seat over 80,000 people – the equivalent of a small town's population - the sheer magnitude of this data tsunami is clear.
Stadiums present unique challenges in providing clear wireless connectivity, however. The extremely high density of active mobile phone users in the seating area requires very sophisticated radio design and system optimization to control the interference between the antennas inside the stadiums and with the unwanted signals from outside network.
Such high demand can reduce the rate of available data to such an extent where using social media is no longer viable, and can often result in a complete network failure at peak times.
Experienced engineers and network designers are well aware of how challenging it can be to ensure that every part of a stadium is flooded with sufficient mobile reception to satisfy the demands of the most bandwidth-hungry sports fan.
The most commonly deployed solution used to address this, and to providing the broadest mobile coverage and capacity in a stadium is a distributed antenna system, or DAS. This involves the installation of a network of antennas connected to remote units throughout the venue which will act as repeaters, receiving digital signals from a dedicated base station and distributing them throughout the building via fibre cables.
Along with 70 miles of cabling, and more than 950 Wi-Fi access points, a series of DAS remote units connections has been installed in the Stade de France, making this year's European Championship final truly connected. Across the Atlantic, a similar investment in the Bank of America Stadium in Charlotte, North Carolina, has recently enhanced the mobile experience of fans of conference champions the Carolina Panthers.
For fans to truly enjoy full mobile connectivity during a game or event requires the provision of flawless, high capacity wireless service throughout. State-of-the-art wireless communication systems are no longer 'nice to have features' of only the most tech-friendly sporting venues – they're now an essential part of any modern stadium experience.