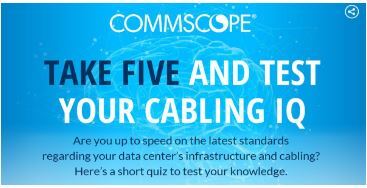 Let's talk about big decisions...like marriage. As Tim Urban, one of the folks behind the popular "Wait But Why" blog, reminds us:
"When you choose a life partner, you're choosing a lot of things, including your parenting partner and someone who will deeply influence your children, your eating companion for about 20,000 meals, your travel companion for about 100 vacations, your primary leisure time and retirement friend, your career therapist, and someone whose day you'll hear about 18,000 times."
I mention this because, next to selecting your spouse, choosing the migration path for your data center is a piece of cake. Feeling better already, right? Let's break it down.
You can always count on data center lane speeds to grow. 25G and 40G are the new 10G and 400 is the new 100. Supporting those higher data rates means rethinking your cabling and connectors. But don't freak out, a lot of the hard work has already been done for you. Think standards.
Cabling and infrastructure design standards like ISO/IEC 24764, ANSI/TIA942-A and IEEE 802.3 provide a roadmap for data center managers and vendors. Adhering to a standards-based design ensures you're driving on a road that's constantly being paved ahead of you.
Like any useful map, the standards are continually evolving as new technologies emerge. This year, we've seen the introduction of standards around wide band multimode fiber (WBMMF), Category 8 cabling and automated infrastructure management (AIM) systems.
Understanding and keeping up to date on the standards regarding data center infrastructure makes your job much easier. But staying current on all the changes can be a full-time job. This is where having a trusted partner like CommScope can really help. For years, CommScope has actively participated in writing the standards that keep the industry moving forward. Resources like the CommScope Standards Advisor and numerous white papers and design guides are great ways to make sure your migration path is aligned with standards-based best practices.
Ready to test your knowledge of cabling and connectivity standards? We've developed a brief and fun quiz that covers the gamut.
When you're done taking the quiz, you'll have the chance to download and read the white paper, "Data center cabling design fundamentals." You'll learn how to translate the cabling standards into a more efficient and flexible infrastructure. And, finally, rely on CommScope to keep you abreast of the changes and in touch with the infrastructure solutions you need to keep your data center migration on track.