I am a "
millennial
." I am part of the cohort of persons born between 1980 and 2000, and I also happen to work as a
researcher for CommScope
. When I began looking into the research available on millennials and thought about the unique lifestyles and
spending trends
of my generation—our reliance on technology and prioritization of mobility and experience, among others—I came to a new prediction: my industry is in for
a BIG change
.
Presently one-third of the global population—having outnumbered the Baby Boomer generation already in the US—the Millennial generation is slated to make up 75 percent of the workforce in the United States alone by 2025. We are a significant cohort (not only in sheer number but also in consumer spend), which begs not to be ignored or even misunderstood. We have preferences and spending habits that directly impact network service providers and content providers.
This year alone, millennials living in the US and Canada are expected to spend over $62 billion on media content, all being delivered over a combination of fixed and wireless networks. Eighty-five percent (85%) of millennials have smartphones, and they prize connectivity above nearly every other aspect of their lives. Sixty-six percent (66%) of us millennials believe everything will be mobile in five years—banking, grocery shopping, parking our cars, domestic tasks, you name it. Additionally, there is an evident shift from previous generations, who had strong brand loyalty. Instead, millennials opt for the best combination of services at the lowest price. These are some pretty powerful statistics, especially when you take into consideration:
By 2017, millennials will have more spending power than any other group, accounting for some $200 billion annually in the United States alone
95% of millennials have Internet connections
62% of millennials prefer living in urban areas
High speed Internet access ranked third on a list of priorities for millennials who are evaluating a metro to live in, behind safe streets and affordable housing
Of the top ten brands cited by millennials, five are online content services and three are device manufactures
These findings, from sources such as Deloitte, Verizon, Goldman Sachs, Telefonica and others, illuminate several key realities in the millennial mindset, which directly impact communications service providers and content providers. Sifting through the list, I have identified four as being most significant.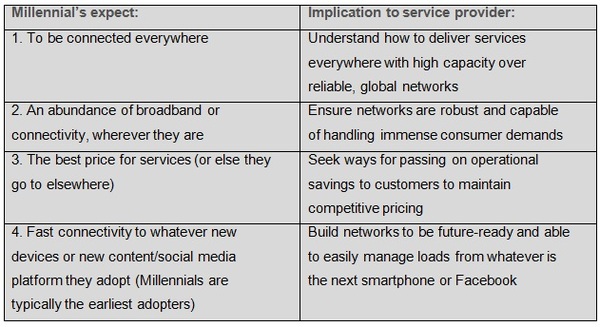 Network operators are positioning to service this generation as we'll soon represent the greatest spending power and influence on services in the near future. I predict network operators will focus on expanding and increasing the capacity of fiber optic broadband and wireless infrastructure with an eye for reducing costs and passing the savings on to customers. The networks must be agile and scale quickly to meet the rising millennial-customer demands for connectivity as we millennials are keen on having the latest and greatest devices and are always up on the latest social media or content trends.
How else do you think the millennials will affect communications networks?