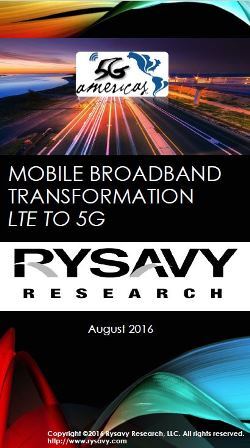 (Note: The following has been submitted as a guest post to CommScope Blogs by Chris Pearson, president of 5G Americas. Opinions and comments provided in this guest post, as with all posts to the CommScope blog, are that of the author and do not necessarily reflect the views of CommScope.)
Pull up your nice socks, saddle up your Kentucky Derby horse, get on the Maglev bullet train or jump on your NASA rocket to ride along with the mobile wireless industry's fast moving transformation - changing the way we work, live and play!
Wireless has, and always will have, the restriction of physics working against the industry. However, wireless technologists around the world are developing 5G and LTE-Advanced Pro standards that are changing the world. These changes move toward the ultimate imagination of a world without wireless limits where innovation and investments are defined by possibilities in mobile wireless and not it's limitations. Through LTE, and in the future with 5G, the mobile wireless industry is developing and deploying faster, flexible and more capable networks.
To present a clear understanding of the incredible transformation that is currently underway in the mobile industry, 5G Americas recently published a white paper titled Mobile Broadband Transformation: LTE to 5G by Rysavy Research, which outlines technology milestones, discusses the future of 5G and explains the complexities of 5G developments.
The white paper highlights some key developments happening in today's mobile wireless industry that will affect the connected world today and tomorrow. These developments include:
5G research and development accelerates
LTE becomes the global cellular standard
LTE-Advanced provides dramatic advantages
Internet of Things poised for massive adoption
Unlicensed spectrum becomes more tightly integrated with cellular
Spectrum still precious - its value was demonstrated by the recent Advanced Wireless Services (AWS) auction in the United States that achieved record valuations
Small Cells take baby steps, preparing to stride
Network Function Virtualization (NFV) emerges
The paper explains many elements that are interacting to fuel the transformation of mobile broadband, with specific details on the factors playing the most important roles which are the emerging capabilities for Internet of Things, radio advances granting access to far more spectrum, small cells about to play a much larger role, new network architectures that leverage network function virtualization and software-defined networking, and new means to employ unlicensed spectrum. Except for access to high-band spectrum, a 5G objective, these advances apply to both LTE and 5G.
The white paper has a considerable section dedicated to explaining the continuing technical innovation roadmap of LTE to LTE-Advanced to LTE- Advanced Pro. These developments are outlined in the following chart:
Furthermore, the industry is forging ahead to 5G in 2020 and beyond, and the 5G Americas white paper explains the timeline and complexities of 5G. There is a great deal of focus and energy on 5G in the industry and the industry should continue this focus to meet demand as enterprise and consumer subscribers are demanding more data, faster data and lower latency communications each year. This chart highlights the timeline for the development of 5G and LTE-Advanced Pro.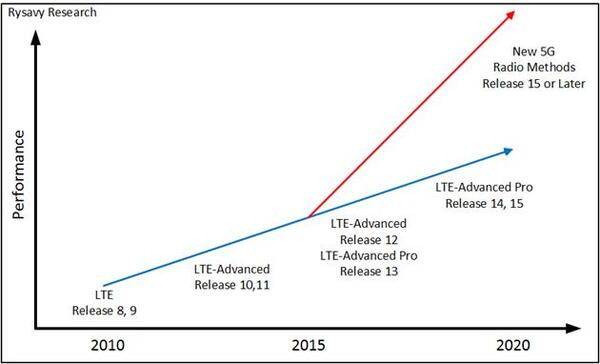 Stay alert for this technology transformation in the mobile wireless industry that could open up a connected society without wireless limits, full of imagination, investment and creativity.
So strap on your wireless controlled self-steering mobile broadband connected jet pack and enjoy the ride!